Biopharma sector proposes solutions to its challenges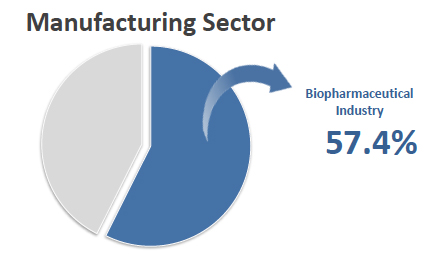 The biopharmaceutical industry is a major driver of Puerto Rico's social and economic development, not just for the 86,000 direct and indirect jobs its creates, but for the multiplier effects it has upon other sectors.
However, despite its standing as the leading industrial component in Puerto Rico's economic development since the mid 70s, the sector is facing a series of challenges that are putting pressure on its operations, namely: the rapid shifting of global biopharmaceutical production; cheaper drugs from low cost producers, such as China, Brazil, India, and South Korea; a surge in the production of generic drugs; and accelerating patent expirations, among others.
On Thursday, the voice of the local industry was heard through the "Economic Impact of the Manufacturing and Commercial Operations of the Biopharmaceutical Industry in Puerto Rico" report prepared by the Estudios Técnicos firm for the Pharmaceutical Industry Association.
The report quoted industry sources who listed a string of actions necessary to address some of those challenges, headed by the need to re-establish trust in doing business in Puerto Rico, taking urgent action to reduce the cost of doing business on the island and improving reliability and cost of infrastructure.
"Biopharmaceutical companies operating in Puerto Rico are facing increases in their cost of doing business following the October 2010 passage of Law 154," said Economist José Joaquín Villamil, in charge of the presentation during PIA's annual meeting.
The legislation, approved in one day and with no public hearings, imposes a 4 percent tax on certain transactions of nonresident companies operating on the island. Despite being blind-sided, most companies stayed put, striking benefit decrees with the government to continue doing business in Puerto Rico.
Still "the imposition of taxes goes against the government's attempt to foster scientific innovation and will reduce Puerto Rico's attractiveness as an export base for biopharmaceuticals," Villamil said.
The industry gathering in Río Grande drew the participation of Gov.-elect Alejandro García-Padilla who said while his administration will not repeal Law 154 "because the government has made fiscal commitments with that money," he vowed to provide incentives to the sector.
Biopharmaceutical companies reportedly paid close to $3 billion in taxes this year, of which $1.9 billion were attributed to Law 154.
García-Padilla vowed to meet with members of the pharmaceutical industry at least once a month to strategize on how to retain and attract companies.
The performance of the Puerto Rico economy leaves little room for not stimulating an aggressive strategy to retain key industrial activities in the island, said Villamil, while pointing out that refraining from providing incentives could precipitate an exit of plants to Latin America, for example, which is investing heavily in developing its export industry and, most importantly, has the additional attraction of massive domestic demand in countries such as Brazil, Argentina, Mexico and Colombia.
An X-ray of the sector
Although affected by the increase in costs and global conditions, Puerto Rico's biopharmaceutical industry represents 18,000 direct and 68,000 indirect jobs, a total payroll of more than $1.1 billion and average salaries of $62,000 per year.
Villamil's presentation also listed strengthening the relationship between PIA and the Puerto Rico Industrial Development Company to promote manufacturing development on the island, and promoting the development of additional R&D activities as sector priorities.
The industry also urged for consistency in applicable government policies, specifically those related to taxes, energy and labor. Furthermore, they asked for an update of biochemical waste disposal regulations and simplification of permitting processes particularly with respect to installing alternative energy sources.
While the biopharmaceutical industry accounts for more than 10 percent of private employment in Puerto Rico, on the commercial side, local product sales reached $2.8 billion in 2011, of which $900 million were generics. All of that activity was subject to sales tax payable to the Puerto Rico Treasury Department.
"The industry is concerned about access to innovative medicines in both public and commercial healthcare plans. The commercial component of the industry generates an additional 2,000 direct jobs," Villamil explained.
Significant multiplier effect
The industry outsources upward of $150 million per year to local firms and has been responsible for the development of a clinical trials sector that already generates more than $35 million in volume and generates highly skilled jobs, he said.
This type of activity also provides the foundation for increasing R&D in Puerto Rico, which already boasts 10 investigative centers islandwide, the study stated.
In that sense, the sector also urged finding ways to strengthen ties among the government, academia and the industry.
"The industry can be considered as basic infrastructure in promoting future economic development. In many ways the biopharmaceutical industry is what can be called a 'gateway sector' in the sense that it provides linkages with the rest of the world and specifically with those sectors that are leading global growth," the study presented Thursday concluded.