Cable trade group takes fight against Viacom to the FCC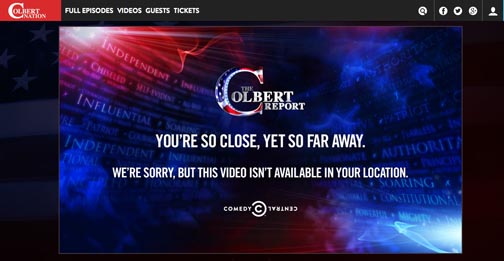 One month after Liberty Puerto Rico announced its decision to pull the plug on Viacom-owned programming, the American Cable Association sent a letter to the Federal Communications Commission slamming the content provider's decision to also block access to its websites by broadband Internet subscribers, including those served by the carrier.
"All who care about ensuring access to content on the Internet should be outraged that Viacom is selectively blocking access to its public websites by broadband Internet subscribers served by smaller cable companies," said ACA President Matthew Polka, referring to the action Viacom took last week that affected the Puerto Rico market.
"Viacom took this punitive step against these companies in retaliation for their recent refusals to sign cable programming renewal contracts seeking exorbitant fee increases for Viacom networks with low ratings and minimal viewer interest," he said. "As part of its retaliatory efforts, Viacom's action is impacting access to a subset of broadband customers, also known as 'cord cutters,' who are not video customers of these companies."
"We know that all broadband Internet subscribers of two ACA members — Cable ONE and Liberty Cablevision of Puerto Rico — are being blocked by the powerful media conglomerate," Polka said. "We fully expect the list of small cable operators targeted by Viacom to grow based on preliminary information from dozens of ACA members who did not renew with Viacom."
In an interview with this media outlet, Naji Khoury, president of Liberty Puerto Rico, said he believed at least 60 carriers were forced to drop Viacom's channels from their lineups, after unsuccessful negotiations.
"In our minds, this is pure discrimination and it goes against everything the FCC is talking about. Suddenly, here comes a company with muscle, starting to block users," Khory said.
Last month, Liberty announced it would pull the plug on MTV, VH1, Comedy Central, Nickelodeon, Spike, TV Land, CMT, Nick Jr., Nicktoons, VH1 Classic, MTV Tr3s, MTV Hits, MTV 2 and Nick 2 — popular with Puerto Rican viewers — over what Liberty said were "disproportionate fee" requirements.
"The price was totally out of proportion to the market that we serve. When we asked to unbundle channels to air those that rank well in Puerto Rico, that suit our viewership, and get them at reasonable fees, we were told no," Khoury said.
Meanwhile, Gabriel Palerm, sales, marketing and media vice president of Liberty said the carrier paid for about 17 Viacom stations, five of which were the most popular among Puerto Rican viewers.
"We cannot continue to pass on the costs to 100 percent of our customers for channels they're not watching," he said.
Regarding the blocked content online, Palerm called it a "scare tactic, and the worse part of all of this is that they're telling customers on the screen that Liberty has decided to block that content from them, and that's a complete lie."
"We cannot do that, not even technically," he said.
Both executives refrained from discussing the rate increase that Viacom is requiring for its lineup.
However, Khoury said while Liberty does not believe "it will be easy, we continue to negotiate in good faith," in an attempt to get the channels back in the lineup.
"But from what I see today, it's going to be tough," he said, noting that Liberty is taking the necessary actions "in the background" to deal with Viacom's latest move.
'Bastion of openness'
Earlier this week, the ACA's Polka had a teleconference with Gigi Sohn, special counsel for external affairs to FCC Chairman Tom Wheeler, to discuss recent actions by Viacom to deny access to its websites by broadband Internet subscribers served by smaller cable broadband providers who are members of ACA.
During the call, Polka noted that the "Internet has always been a bastion of openness for consumers, who have been allowed to reach the lawful content of their choice. Viacom's move to block a select group of broadband Internet customers regardless of whether they subscribed to the operators' video offerings or not is inconsistent with the fundamental tenet of Internet openness that the Commission's vacated 2010 Open Internet Order championed."
Polka urged the FCC to seek comment in its upcoming Notice of Proposed Rulemaking in this docket on whether the Commission's decision in its 2010 Open Internet Order that the Open Internet rules should not apply to edge provider activities, such as the provision of content or applications over the Internet, remains appropriate given market conditions and recent actions taken by content providers.
"Viacom's actions are a flagrant attack on Internet openness and a textbook replay of the vengeful action CBS took against Time Warner Cable and Bright House Networks broadband customers during their well-documented retransmission consent dispute last August," Polka said.
"Viacom's move is momentous because of the policy and industry debate occurring right now regarding the fundamental tenets of Internet openness, which include allowing consumers to reach the lawful content of their choice," Polka said. "In selectively blocking these users' access, Viacom is violating Internet openness in a way that should be seen as a call to action to policymakers on Capitol Hill and at the FCC."