CNE's Marxuach: Solving retirement system debacle will require tolerance, commitment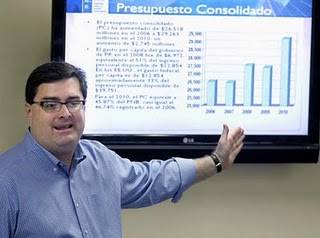 The task of repairing Puerto Rico's retirement systems debacle, which credit rating agencies have warned could affect the island's credit rating, will require "tolerance, capacity for frank dialogue, a commitment to negotiate in good faith and willingness to make and honor concessions by retirees, current government employees and the general public."
Such is the assessment that Sergio Marxuach, director of public policy for the Center for the New Economy, put forth this week as a solution to what he called the "$25 billion problem."
Earlier this month, Moody's Investors Service, one of three stateside companies that periodically evaluate Puerto Rico's credit, issued a report warning of a possible downgrade of the island's bonds classification due to the government retirement systems' precarious fiscal situation.
The government of Puerto Rico currently has five retirement systems: the Commonwealth Employees Retirement System, which covers nearly all central government, public corporations and municipal employees; Teachers Retirement System, which covers public school system teachers; Courts Retirement System, which covers judges; the University of Puerto Rico Retirement System; and the Puerto Rico Electric Power Authority Retirement System.
Each of the retirement systems has an actuarial deficit, which would impede them from meeting future obligations for a lack of enough resources. In its report, Moody's zeroed in on three of the systems that depend directly on general fund contributions: the Commonwealth Employees Retirement System, which as of June 30, had an estimated deficit of $17.8 billion; the Teachers Retirement System, which had $7 billion accumulated; and the Courts Retirement System, with $283 million.
"The deficit, therefore, is $25.1 billion. To put this figure in perspective, the French central government's main pension system — the eighth largest world economy —reaches some $15 billion," said Marxuach in his analysis.
Two-pronged notice
Moody's warning is based on two factors. First, the sum of the actuarial deficit of the three systems that rely on the General Fund and the net public debt that depends on taxes for repayment exceeds $64 billion, an amount that is approximately seven times Puerto Rico's General Fund budget and more that the amount owed by states much larger than Puerto Rico, such as Florida, New York, or Texas.
"Moody's analysts conclude, reasonably in our opinion, that the combined weight of these obligations will generate strong pressures on the General Fund on the mid- and long-term," Marxuach said.
Second, the annual contribution required to make the retirement systems current is enormous, which would limit the government's ability to meet other obligations. This situation, Marxuach said, prompted Moody's analysts to question the retirement systems' viability and sustainability.
For fiscal year 2011 the actuarial contribution required for the three systems that rely on general fund amounts to some $2.1 billion, an amount that is equal to 23 percent of the General Fund budget.
"This is without taking into account other required annual expenses, such as transfers to the University of Puerto Rico, the judicial branch budget, and subsidies to municipalities. In addition, every dollar that is used for the retirement systems is one less dollar we have to address other pressing social needs," said Marxuach.
Fortunately, he said, the government does not have to deposit its full contribution in one shot, as employees retire gradually.
"However, since contributions levels to the system is not actuarially determined, the actual amount of contributions that are made to the system are far below what is required," said Marxuach, pointing out that during fiscal year 2010, the actuarial required contribution was $1.4 billion, but the employer contribution was $534 million.
During fiscal 2010 the system received $726 million in employer and employee contributions. However, benefit payments and system administrative expenses totaled $1.2 billion, generating a deficiency of $542 million. To the extent that negative cash flow continues to exceed the system's investment performance, assets are reduced. At this rate, the system would run out of assets in 2019, even assuming a 7.5 percent annual return on its investments, Marxuach said.
Not enough to go around
"And that's the underlying problem. The government of Puerto Rico does not have the resources to meet all of its obligations. Obligations that it has contracted with bondholders, retirees, UPR students, the medically indigent population, the Medical Center, and special education students, among others," he said. "These groups compete among themselves for a limited amount of government resources, and this is the key to this issue, it is not enough to meet all existing claims."
In his analysis, Marxuach noted that the retirement system's problems have very complex financial, political, legal and moral implications involving retired people that have already earned their benefits and planned for life after produtive years and those who are responsible for providing them.
"We believe that a just solution to this problem will require sacrifices from each of these groups. Everyone must do their part, otherwise we risk irreparably destroying the social contract that has governed Puerto Rico during the last 60 years," Marxuach concluded.