Compulsory policies drive Seguros Múltiples's business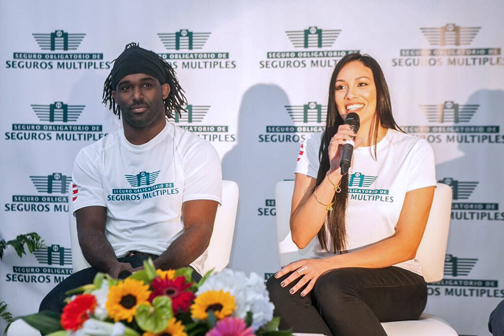 In the eight months after entering the island's compulsory auto insurance market, Cooperativa de Seguros Múltiples has signed up 200,000 clients, exceeding its target of achieving a 15 percent market share, company officials said Wednesday.
To mark its milestone achievement, the company is expanding the number of spokespeople — comprising local athletes — to deliver its campaign message. Olympic wrestler Jaime Espinal and volleyball player Vilmarie Mojica will join the first two representatives, hoopsters Carlos Arroyo and Carla Cortijo, for the second phase of the advertising push.
"With this campaign we're on our way to meeting new goals to reach more compulsory insurance consumers who we want to serve as only a Puerto Rican firm knows how to do," said Luis M. Cordero-Rivera, vice president of sales and marketing for Seguros Múltiples.
"We're confident that with the support of our island, by the end of this year our market share will increase," to 18 percent he said. The company will invest $800,000 in the marketing push to drive that growth.
Seguros Múltiples is competing against several other players, namely the Joint Underwriters Association, Point Guard and Antilles Insurance Corp., for the island's compulsory auto insurance policies, which were established in 1995.
Seguros Múltiples has a network of 35 service centers throughout the island; customer service seven days a week; claim payment by direct deposit; and a visit in case of claims. It also offers free estimate service.