Corso Coffee opens today at The Mall of San Juan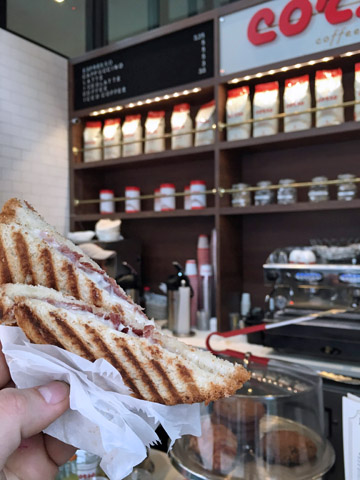 Corso Coffee, an Italian style coffee bar with a New York ambiance, is opening today at The Mall of San Juan at the first-level 300-square-foot kiosk formerly occupied by Hacienda Monte Alto.
It is LDV Hospitality's second business concept in Puerto Rico, after recently opening American Cut Bar & Grill flagship restaurant, also located at the mall. LDV Hospitality owns other four Corso Coffee locations, two in New York City, one in Montauk, New York, and one in Atlanta. Corso Coffee in San Juan will employ a staff of 13.
The menu consists of espresso-based beverages, light comfort fare including breakfast pastries, salads and paninis. It also includes some classic grab-n-go sandwiches from the New York menu such as Italian Toast (fontina cheese and prosciutto), the Del Corso (prosciutto, fresh mozzarella, basil, tomato & arugula) and the Ruspante (grilled chicken breast, avocado, applewood bacon and mayonnaise).
"We're excited to bring Corso Coffee to Puerto Rico, a market that is knowledgeable and passionate about coffee," said John Meadow, president of LDV Hospitality.
"We are also proud to say that we will be offering Puerto Rican coffee Alto Grande and local pastries, like our own version of the famous 'quesito,' as well as a selection of cupcakes, including local favorites such as Nutella and guava flavors," he said, adding they will be working with local vendor Puerto Rico Coffee Roasters to provide the machinery needed for this new location.