Crowley takes delivery of 3 new cranes in San Juan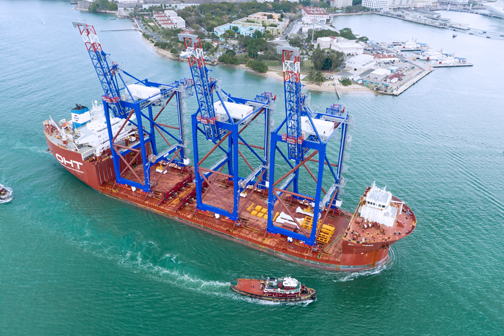 Three new, ship-to-shore cranes that were constructed in Ireland were delivered to Crowley Puerto Rico Services' Isla Grande Terminal in San Juan Thursday, marking a historic milestone for the company and island, the company said.
The cranes a major component of the $130 million Crowley is investing in infrastructure improvements to its Isla Grande Terminal, and their arrival marks the first time new, specialized gantry cranes have been received for operation in the San Juan Harbor in five decades, Crowley further stated.
"With the delivery of these state-of-the-art cranes, we are taking another step toward the transformation of our terminal into the most modern and efficient port facility on the island," said John Hourihan Jr., Crowley's senior vice president, Puerto Rico services.
"No other shipping line's operation in San Juan will be as modern or efficient as ours with the addition of this brand-new, high-tech equipment," he said. "These cranes will help to ensure the terminal operates safely and efficiently, with the fastest discharge times on the island."
"This is a strong demonstration of our total commitment to the people, infrastructure and future success of Puerto Rico," Hourihan added.
The cranes, which will be offloaded and positioned on the pier over the next several days, each have a capacity of 65 long tons and measure approximately 65 meters tall, with an outreach of 40 meters.
They bring the best-possible container-handling technology — including operator-assist modes, laser profiling that targets containers for precision handling, memory settings and truck positioning system — to the Puerto Rico trade, all features that improve safety and maximize container loading and discharge efficiency, Crowley executives said.
"We went to great lengths to ensure we have cranes optimized to handle our specialized 53-foot container equipment, as well as standard container sizes," said Jose "Pache" Ayala, vice president of Puerto Rico services.
"We are pleased that these cranes will continue to help us meet the unique demands of Puerto Rico shippers, bringing even more speed to meet their needs, while also marking an historic achievement for the island," he said.
Liebherr Container Cranes, part of the Liebherr Group, in Ireland, built the new cranes.
In total, Crowley is investing more than $550 million to transform its Puerto Rico shipping services.
'El Coquí,' 'Taíno' LNG ships launched
In addition to the cranes, the company on Monday launched "El Coquí," the first of two new, liquefied natural gas (LNG)-powered, Commitment Class ships being built by VT Halter Marine in Pascagoula, Miss., under the construction management of by Crowley Marine Solutions, which includes naval architecture and marine engineering subsidiary Jensen Maritime.
After several more months of topside work, El Coquí is expected to begin service during the second half of 2017, and its sister ship, Taíno, is due to commence service in the first half of 2018.
Other improvements include constructing a new 900-foot-long, 114-foot-wide concrete pier and all associated dredging needed to accommodate Crowley's two new ships; expanding the terminal's capacity for handling refrigerated containers; paving 15 acres to accommodate container stacking; adding containers to its fleet and container handling equipment; installing a new electrical substation to provide power for the new gantry cranes; constructing a new seven-lane terminal exit gate for increased efficiency; installing hardware required for a new, state-of-the-art terminal operating software system, and more.
"Without a doubt, the arrival of these cranes marks a new stage in the economic development of Puerto Rico through the efforts made in our ports," said Omar Marrero Diaz, executive director of the Puerto Rico Ports Authority.
"We emphasize that with the shipping company's investments in infrastructure and specialized port equipment, and the Authority's commitment to collaborate, this and other projects will materialize positively for the benefit of all," he said.
The massive investment serves as the next chapter in Crowley's history of shipping and logistics services between the U.S. mainland and Puerto Rico.
Crowley has served the Puerto Rico market from Isla Grande Terminal in San Juan since 1954, longer than any other Jones Act carrier in the trade. The company, with more than 250 Puerto Rico employees, offers more weekly sailings in the market than any other shipping line.