Dispute boils over to split Bebo's Cafe into Basilia's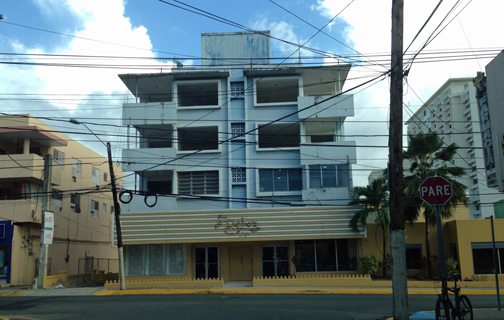 A dispute involving money and the terms of a lease has unraveled a long-standing business partnership in San Juan's food industry and in its aftermath, a popular restaurant will split into two distinct eateries separated, as Berlin once was, by a wall.
The business in question is Bebo's Café on Loíza St., a spot so popular among locals and tourists for its affordable menu centered on Puerto Rican specialties that last year it attracted a record 500,000 customers.
A neighboring banquet facility and a separate Bebo's Café in Cupey round out this familiar San Juan institution.
But now the popular eatery is enmeshed in a sour and messy dispute that has ended in court and all because of the breakdown in the business relationship between businessman Efraín Jiménez-Ayala, the owner of Bebo's Café and its brand name, and the restaurant's long-time operator, BC Food Services Inc., presided by Miguel Angel Mercedes-Lantigua. That business relationship had lasted two decades though both sides have known each other even longer than that.
Earlier this year, Jiménez moved to oust BCFS from its premises but because of a separate yet related case now headed to the Puerto Rico Supreme Court, the eviction is currently on hold.
Until recently, the controversy had played out quietly behind closed doors but now it has spilled out into the open with the recent removal by BCFS of all signage referring to Bebo's Café.
In fact, the restaurant is now operating under the new name of Basilia's. From all appearances the restaurant is carrying on as normal but the reality is that construction is currently underway to prepare one side of the restaurant for future autonomy.
That's because the 6,500-square-foot locale at the heart of the controversy is like a patient with a split personality: one side is owned by Jiménez, while the other side is owned by BCFS.
At some point a wall will separate the two sides and both facilities will operate independently of each other: one as Basilia's and the other as Bebo's Café.
Three-year dispute
"It's a very difficult situation," said Miguel Mercedes Jr., BCFS vice president and the son of Miguel Angel Mercedes-Lantigua, who spearheaded the restaurant's growth.
Mercedes said the dispute started in 2010 when the 2005 contract came due and the landlord asked for a 34 percent rent hike. BCFS countered with a lower offer because a market-based study it had commissioned showed that the rent was too high.
But there was another reason for seeking a lower rent. Mercedes Jr. said the amount paid in rent was tied to the level of sales. But Bebo's Café shares space among two buildings, and so the rent amount should have been based on only 50 percent of sales, or the half that corresponded to the side belonging to Jiménez, he said.
Interviewed separately, Jiménez denied asking for a rent increase. He described the rent as fair since it represents only 10 percent of BCFS' yearly revenue of $6 million.
BCFS pays a yearly rent of $624,000, or $52,000 per month.
"This is my sole source of income," said Jiménez, noting that this revenue also pays for the mortgages on the buildings that make up the Bebo's Café complex, such as the restaurant itself, a separate building on Del Parque St. used as office space, a banquet hall (also on Del Parque St.) and its adjoining parking.
A lack of agreement on the terms of the 2010 contract led to a month-to-month lease. The monthly rent of $52,000 remained the same, Jiménez said.
He also claimed to being owed $452,000. (Mercedes Jr. put the back rent amount at $175,000.)
"I have lost my credit, my home, my car," Jiménez said in the interview during which he was accompanied by attorney Oscar García-Rivera and his press rep, Edgardo Sanabria. "On this island, a person without credit is not worth two cents."
With no money coming in, Jiménez said he faces constant harassment from the banks. They call him at all hours and sometimes he gets automated calls at 2 a.m. reminding him that his payments are due. He is even behind on his apartment rent.
In July 2012, BCFS sued Jiménez under Law 75, a statute that protects local businesses against unfair termination of contractual obligations. The company argued that the contract to operate the Bebo's Café brand represented a franchise and therefore fell under the purview of the law. BCFS also claimed that Jiménez was looking for a new operator to take over the restaurant.
In January, Jiménez moved to evict BCFS because his tenant was three months behind on the rent.
Faced with eviction, BCFS sought to consolidate the eviction and Law 75 suit into one case but the Superior Court and, subsequently an appeals court, denied the request. BCFS is now preparing to take the case to the Supreme Court. The deadline for filing is Aug. 21.
In the meantime, the eviction is on hold. Jiménez's attorneys said if the high court rules in favor of their client, the case will go back to Superior Court and they will request an eviction date.
The History
The story of Bebo's Café reflects how a combination of hard work and a good business location can result in spectacular success.
It begins in 1988 when Jiménez bought Bebo's BBQ in Carolina from Basilia Lantigua-Hidalgo, Mercedes' mother. She in turn, had bought it from her boss who had originally started the business and hired her when she moved to Puerto Rico from the Dominican Republic.
Around 1991 or 1992, Jiménez bought another food business. This time it was El Padrinito, a small open-air eatery that the elder Mercedes had opened on the corner of Loíza St. and Del Parque St.
Mercedes retired and Jiménez ran the place for a while. Subsequently, he drew Mercedes out of retirement by offering to rent him the restaurant under a lease renewable every five years. Mercedes accepted.
In creating the concept behind Bebo's Café, Mercedes fused El Padrinito's menu featuring Puerto Rican specialties with the chicken, ribs, and pork fare served at Bebo's BBQ. Add good service and affordable prices to the formula and it proved a winning recipe.
By 2003, the restaurant was operating inside a solid, air-conditioned, one-story building with bay windows looking onto Loíza St. The company had 50 employees and reported $2 million in sales.
Two years later, BCFS acquired the property next door, a four-story apartment building whose ground floor had been vacated by Skandia, a popular furniture store. By tearing down the wall between Skandia and the restaurant, the eatery was able to expand overall seating capacity to 100 tables.
The purchase was financed through a loan from Doral Bank but, according to Mercedes Jr., Jiménez was not involved in the deal.
In 2012, sales hit $6 million, slightly down from the previous year. To pick up the slack, a banquet hall was added in a separate building on Del Parque St. It proved highly successful from the get go. In its first year of operation it generated 102 events and more than 150 activities were on the books for this year, Mercedes Jr. said.
It is the nature of controversies involving companies to raise questions about their finances.
A financial statement covering BCFS' operations in Fiscal Year 2012, which News Is My Business has obtained, shows that the company may be experiencing some difficulties.
At the beginning of the 2012 fiscal year, BCFS company was running a deficit of $1.3 million. That same year, it experienced a net loss of $352,145, which brought the total deficit at the end of the fiscal year to $1.7 million.
In a separate interview with the elder Mercedes, he acknowledged that BCFS is experiencing the sort of difficulties that most businesses are having nowadays. He said that growing Bebo's Café has required investments to improve the operation, buy equipment and build up the brand. To finance these investments he has used revenue generated by the company as well as funds raised by mortgaging personal property.
All he has done, he said, has given the brand "a very attractive value."
Basilia's
With the eviction looming over its head, BCFS seemed to have no other choice but to start its own place.
"We are going to stay here even if we only have 10 tables," Mercedes Jr. said, quoting his father.
The conflict is too far gone to backtrack now.
"There is no way back" he said. "His purpose is to get us out," Mercedes Jr. said referring to Jiménez.
Aramil García, another attorney representing Jiménez, scoffed at the representation of his client as "the bad guy."
"They (BCFS) are portraying themselves as victims," said Garcia, pointing to the financial hardships faced by his client.
The new restaurant, whose name pays homage to the family matriarch who emigrated with her sons to Puerto Rico, is not unlike Bebo's Café. Same menu, same employees.
Mercedes gave this reporter a tour of the facility currently in the midst of construction. He showed off the new bar area and the still unfinished see-through kitchen. He pointed to the wall that will eventually be sealed off to separate Bebo's Café from Basilia's and explained that a similar wall will go up in the parking area in back of the building.
BCFS has arranged for additional parking at nearby San Jorge church to accommodate the vehicle overflow. A small bus will ferry clients to and from the restaurant.
Mercedes said he expects work on the ground floor portion of the restaurant to be completed in a few months. Construction is going on even as the restaurant continues to operate normally; customers could be seen enjoying their meals, from all appearances seemingly undisturbed by the controversy swirling around the restaurant.
Clients who inquire are told the operators were unable to renew the lease, said the senior Mercedes.
"We are trying to make things favorable, also for them," he said referring to Jiménez. "What's most important is for the operation not to be affected."
BCFS expects sales to drop once the two restaurants split. But Mercedes expressed confidence that both restaurants can compete side by side.
Plans call to install an elevator and expand into the second floor but that part is not expected to be ready until December, possibly later. The restaurant represents an investment of $150,000, said Mercedes Jr.
As part of the changes, Bebo's Café in Cupey, which opened in 2008 and is owned by BCFS, is being renamed Basilia's with a third restaurant to be added to the chain in October. It will be located in Isla Verde, inside a building that BC Food is renting with an option to buy.
A feud between two parties involved in a mutual business can be a sticky situation for the employees but, according to Mercedes, everyone was apprised of the situation and told they would be kept on, if they wanted to stay. A total of 123 people are on the payroll.
The company has been a steady source of employment through the years and, according to Mercedes, eight to 10 people drop by every day asking for a job.
"Bebo's Café is like one more member of the family," said Mercedes, one of three siblings. He started working with his father at 23. "It is very difficult, emotionally, to let go of that name."
Mercedes Jr. did not express any ill will toward Jiménez but was firm in crediting his father for the success of Bebo's Café.
"They cannot change our history," he said. "My father was the one who developed Bebo's Café."
Jiménez sees himself as a sinking man. At one point in the dispute he was offered $6 million by Mercedes but he declined. Asked what figure he might have considered, Jiménez replied "$12 million."
He believes that if the situation is resolved in his favor there may still be time to negotiate with the banks though "banks will not wait forever." They could easily repossess the properties he owes money on, he said.
Though unsure about what will happen with Bebo's Café, he said he might decide to run it himself or get someone to operate it for him. He used to run Bebo's BBQ in Carolina and a popular San Juan eatery called Marisol; running a restaurant is not something new to him.
And he would not mind Basilia's competition.
"Let them compete, it's a free market," said Jiménez. "But people should compete cleanly and fairly."