Top Cuban economist pessimistic on island's prospects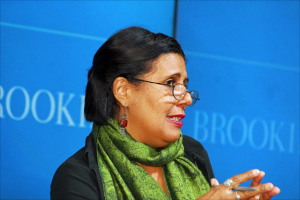 WASHINGTON — One of Cuba's top experts on international finance was decidedly pessimistic when discussing the island's economic prospects at a recent conference in Washington.
The event, "Cuba's Economy in Comparative Perspective," took place at the Brookings Institution and coincided with issuance of a 120-page report with that same title. That report, co-edited by Brookings senior fellows Richard Feinberg and Ted Piccone, consists of six research papers that examine the results of reforms introduced by the Cuban government since Raúl Castro assumed the presidency in 2008.
These include the relaxation of rules regulating overseas travel, use of mobile phones, Internet access and the formation of small-scale businesses, as well as laws to attract foreign investment and the planned phase-out of Cuba's dual-currency system.
Yet for now, it'll be an uphill battle, said Marlén Sánchez-Gutiérrez, a professor at the University of Havana's Center for Research on the International Economy.
"I feel we've done a lot in Cuba in terms of reforms, but it's not enough," said Sánchez, who's currently a visiting adjunct professor with Columbia University's Institute of Latin American Studies in New York. "During the first half of this year, our GDP growth was 0.6%, which is not good. We expected to grow 1.4% this year. It was the worst economic data we've had since 2008."
Sánchez said she was skeptical the Cuban government would be able to pull off its coming elimination of the dual-currency system without major problems.
"I don't believe the process of transformation will be linear and fast. This has to do with overcoming the inertia of rhetoric accumulated during decades of centralized planning and ideology," she explained. "In my opinion, the key to success is not in the private sector, but in the efficacy of transforming the state sector. It's very important to separate these supervisory state functions from the economic activities of enterprises in order to operate more autonomously. There is a risk that giving more importance to control than flexibility of state companies during the monetary unification process."
For this reason, Sánchez said she favors a gradual approach to doing away with a system in which both regular Cuban pesos and convertible pesos pegged to the dollar have been circulating on the island simultaneously for the last 20 years.
"At some point, we will have to act, but I have many reservations. The realization of benefits will depend on the response of the entrepreneurial sector, and there are doubts they can be flexible enough to adjust to the new currency. We have to consider that the costs are immediate, but the benefits will take time to appear," she said. "Also, I have some reservations about [the Cuban government's] attempts to avoid the impact of monetary unification instead of managing it."
Feinberg, a professor at the University of California-San Diego, has made numerous trips to Cuba and follows the island's economic reforms closely.
"What Cuba lacks is a visible cadre of internationally recognized technocrats who have had some global experience and with whom the international community can engage," he said. "That just isn't present in Cuba. I'm sure there are some smart people in government, but either they're invisible or not accessible."
One thing that might ease the pain, suggested Sánchez, would be a greater focus by the Cuban government of accessing sub-regional banks like the Caracas-based Corporación Andina de Fomento [Andean Development Bank, or CAF in Spanish], which has 17 members, and to a lesser extent, the 18-member Caribbean Development Bank (CDB), which is headquartered in Barbados.
"The process of transformation gives Cuba the opportunity to rethink access to the international market," she said. "With the obstacles we have right now, we have to focus our attention on CAF, because it's an important development bank and the United States is not a member. We can also look at the CDB and the New Development Bank created by the BRICS countries [Brazil, Russia, India, China and South Africa]."
Looking toward regional banks
Sánchez noted that even though in Cuba the World Bank is less demonized than the IMF, separating the two "is technically almost impossible because they are twin institutions." For that reason — and the certainty that Washington would actively oppose Cuba's membership in either institution as long as Castro remains in power — Havana should be looking to regional development banks for assistance instead.
"We need to open new channels for talking, and identify some specific sector to engage with these institutions and maybe develop strategic alliances between different institutions," said the professor, suggesting also that Cuba should request observer status within these regional development banks.
Sánchez is considered an expert in this field because she spent seven years working for Cuba's Central Bank. She's also an adviser with the United Nations Development Program, and has worked as an adviser in the Latin American and Caribbean Economic System (SELA) on issues related to financing for development, foreign investment, external debt and international financial architecture.
In 1980, she graduated from Havana's Institute of International Relations. Since then, she's written one book, The Foreign Debt of Latin America: Problem Without Solution? and co-authored two others: The Economies of Underdeveloped Countries in the '80s and Prospects, Globalization and Development Problems: Balance of a Decade.
"Consider the experiences of China, Vietnam and the former Soviet republics," she said. "Cuba has something to offer these institutions. It will take time to become a member of these institutions, so we have to start right now. Maybe these are not the best institutions, but it's important for Cuba to be on the inside, and not outside."
This is especially crucial as Cuba acts to unify its two currency systems.
"It will be difficult to carry out this process without having a lender of last resort," Sánchez concluded. "If we start now to engage with the IFIs, particularly with the development banks, maybe they can help us with resources for carrying out this process."