FirstBank collects 5,952 cell phones for recycling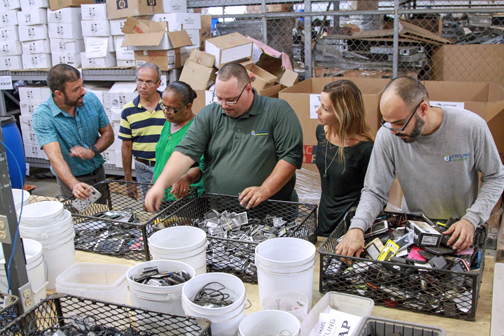 Because 100 percent of the materials in mobile phones are recyclable, since 2014 FirstBank has been collecting devices at its branches as part of its social responsibility program called "Uno con el Ambiente."
In partnership with E-Cycling it has so far rounded up 5,952 devices at its branches islandwide, the company confirmed Wednesday.
"As part of our commitment with the communities, we strive to reduce the amount of cell phones that end up in landfills, thus preventing the contamination of our natural resources," said Catherine Ríos, community reinvestment officer at FirstBank.
"Our 'Dona tu Celu' campaign has allowed us to extend the collection of cell phones to all FirstBank and Money Express branches, as well as our FirstMortgage centers. This offers people additional places where they can take their devices for recycling," she said.
Partnering with cell phone recycling company E-Cycling facilitates the reuse of the equipment or some of its materials. During a tour of E-Cycling's facilities, representatives of Martín Peña Recicla and FirstBank learned about how donated cell phones are classified for reuse or recycling.
"Using high safety standards, technicians evaluate the cell phones to determine if they can be re-manufactured or refurbished; then the obsolete devices are recycled appropriately," said José Rivera, president of E-Cycling Puerto Rico Inc.
Since it began its initiative, FirstBank has donated $9,932 to nonprofit Martín Peña Recicla, which uses the funding to promote the improvement of its environment, said Angel Rodríguez, President of Martín Peña Recicla, which runs a solid waste management and disposal program in the communities around the Martín Peña channel in San Juan.
"We invest it in materials or equipment that help us ensure a cleaner and healthier community in the future. We thank FirstBank and E-Cycling for their commitment and constant support," he said.