González meets with SBA chief to promote development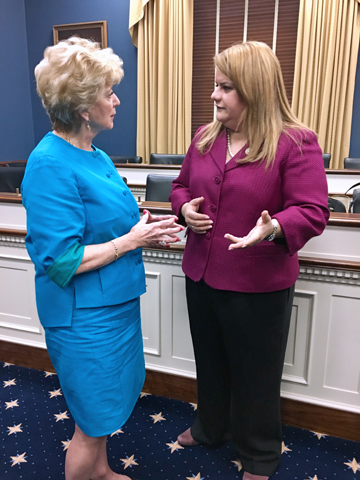 Resident Commissioner Jenniffer González, participated in a public hearing convened Wednesday by the Small Business Committee of the U.S. House of Representatives, where the discussion focused on the priorities will be for the development of small entrepreneurs, as well as the administrative priorities of the Small Business Administration.
As part of her turn, González questioned SBA Administrator Linda McMahon for five minutes about how the expansion of the HUBZone designated enterprise areas under the Puerto Rico Oversight, Management and Economic Stability Act (PROMESA) legislation would have a positive effect on the economy from Puerto Rico.
She also reminded her that the General Accounting Office is conducting a study on HUBzones in the island that should be ready for this summer.
Under PROMESA, 500 locations on the island were added to the HUBzone program for a total of 776 in Puerto Rico. In addition to pointing this out, the resident commissioner asked how the government could meet the 3 percent federal contracting target in Puerto Rico for these zones, which all together represent 82.1 percent of island communities.
McMahon told González that in six weeks she has been in the position, she has appointed Michael Morales, a Puerto Rican from Naranjito and a senior advisor to the administrator, as a 'White House fellow' to lead the compilation of activities in the island for SBA and HUBzones.
According to Gonzalez's estimates, if Puerto Rico were just able to reach even a 2 percent federal contracting goal out of the 3 percent maximum, that could represent $330 million direct input to the island's economy for small and medium traders.
González also asked the administrator to review the SBA's services in the disbursement of disaster mitigation loans for small businesses, Puerto Rico being a focus of hurricanes and floods due to our geographic location, while preventing abuse of these benefit programs for small and medium merchants.
McMahon asked the Congresswoman to gather, list and forward requests from local merchants to review the procedures in these areas that apply in Puerto Rico.
At the end of the hearing, the commissioner met with the administrator and the Puerto Rican official in charge of data gathering for the island.
"I am grateful to Administrator McMahon for her willingness to help develop our economy through small business owners and HUBzones," González said.
"I invited the administrator to visit the former Roosevelt Roads Naval Base and small businesses in Puerto Rico. And it was a great opportunity to be able to talk with Morales, who besides being from Naranjito and member of the Air Force, is the person in charge of information about Puerto Rico for the Administrator.  I will be with him when he visits the Island later in April," González said.