EDB launches 'Because you can' financing program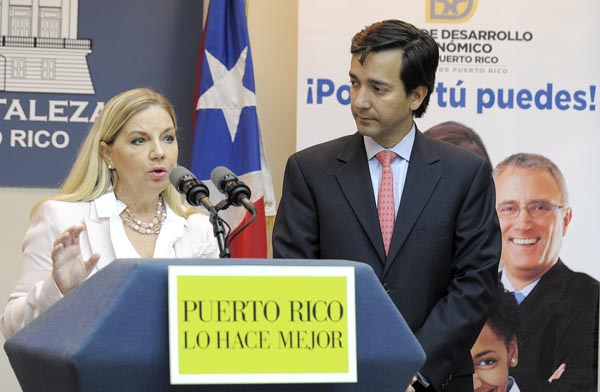 Looking to promote entrepreneurship among the island's neediest populations, including recent college graduates, inmates about to complete their sentence and medical professionals participating in the government's health reform program, Governor Luis Fortuño announced Tuesday the start of the new "Because you can" financing program.
"Through an inter-agency effort led by the Economic Development Bank, these new products seek to reach sectors of the community that have been historically marginalized," Fortuño said during a morning news conference at La Fortaleza, Tuesday. "We want to create an entrepreneurial awareness among all sectors so they can push forward the island's economic development."
The new "Because you can" program includes six alternatives:
College loans for graduates looking to establish or expand their own business, up to $35,000 will be granted in working capital. The EDB will send its officers to the University of Puerto Rico's main campuses in Río Piedras, Bayamón, Mayagüez and Utuado as part of the planned outreach efforts;
ALFA Loan — Developed for inmates who are about to finish their sentence or are on parole. The proceeds of this loan will be for working capital and equipment purchases, with a maximum financing of $2,500. To qualify, the inmates must have taken vocational courses within the correctional facility;
ProSalud — For health professionals who are affiliated with the government's "Mi Salud" public health plan, so they can so they can make improvements to their offices, and have working capital to be able to meet the requirement of offering extended hours. These loans will benefit owners of medical facilities such as laboratories, X-Ray and MRI centers, and other health service providers. Up to $750,000 will be loaned as working capital and to purchase equipment;
DesarrollArte — This product offers support to people with artistic skills who plan to start or grow their business. The term of the loan is of up to $50,000;
PYMExporta — Provides established companies a line of credit to export their products while expanding their businesses. The EDB will back a credit line of up to $750,000 for working capital; and,
Credit line for federal contractors — intended to provide a credit line to established companies that are participating as contractors in federal programs auctions through the Puerto Rico Industrial Development Co. Participants are eligible to receive up to $750,000 in financing in working capital. However, the amount requires the awarded contract as collateral.
"The 'Because you can' program is an inter-agency effort to promote entrepreneurship in niches that are usually not served," said EDB President Ivonne Otero. "We named this loan program 'Because you can,' as we feel all Puerto Ricans have the ability to be self-employed and organize a successful business."
"It is necessary for us and for our future to develop a business ecosystem, support exports and stop the brain drain of local talent and professionals," she said.
As part of the new initiative, the EDB will offer its customary monitoring and coaching services during the first year, to minimize the possibility of loan defaults, Otero said.