Gary Sinise & the Lt. Dan Band to headline post-hurricane benefit concert in P.R.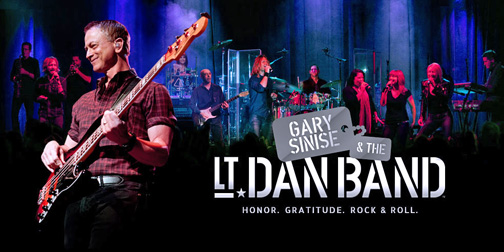 PenFed Credit Union, along with the Gary Sinise Foundation and their official airline partner American Airlines, announced plans for a special benefit concert featuring Gary Sinise & the Lt. Dan Band on March 2 to raise awareness of Puerto Rico's hurricane recovery needs and to provide an evening of entertainment open to all.
The concert is open to the public and will be held at Fort Buchanan. Guests must enter at the front gate of the base. Photo ID is required at the checkpoint. Once on base, there will be police officers guiding guests where to park, organizers said.
"Hurricane María is still impacting Puerto Rico," said James Schenck, president of PenFed Credit Union. "Although the devastating winds and flood waters hit five months ago, millions of Puerto Ricans continue to feel the aftermath of the storm in their daily lives."
"Many survivors have endured months without electric power, fresh food and running water," he said. "This free concert is a team effort to remind our fellow Americans of the ongoing needs of Puerto Ricans, and show our appreciation for everyone who has stayed on the island working hard to contribute to Puerto Rico's recovery and renewal."
The concert will feature a two-hour music set from Gary Sinise & the Lt. Dan Band. The band, a program of the Gary Sinise Foundation, was named for Sinise's role as Lieutenant Dan in the Academy Award-winning film Forrest Gump. The band will begin at 7:30 p.m. at the Fort Buchanan Community Club.
Golden Globe and Emmy Award-winner Sinise will also meet with retired military personnel. Stolen Silver, an acoustic folk duo, will open the show at 7 p.m., it was announced.
"I send my thanks to our pals at PenFed, American Airlines and Envoy for making it possible for me to visit our amazing service members at Fort Buchanan on March 2nd," said Sinise.
"I am honored and excited to play a concert with my band to help boost the spirits of those who are working tirelessly on their important mission in support of the people of Puerto Rico," the actor and singer said.
The concert is made possible by a $100,000 donation from PenFed Credit Union to the Gary Sinise Foundation to sponsor the band as well as support from American Airlines and Envoy, and Fogo de Chão San Juan.
American Airlines and Envoy are transporting the band to Puerto Rico. Fogo de Chão will be providing a post-concert celebration to thank band members and concert volunteers, coordinated by PenFed Credit Union.
"The island and people of Puerto Rico have suffered greatly in the past six months, and we're especially mindful of those members of the military in Puerto Rico who have endured so much," said Captain Jim Palmersheim, American Airlines senior manager for military and veterans initiatives.
"Their willingness to stand up and help fellow citizens in the wake of the storms, even though their own lives were affected in so many ways, is a testament to their tremendous sense of service and sacrifice," he said.
"American Airlines and Envoy are proud to support Gary Sinise and the Lt. Dan Band as they travel the world entertaining those who serve our nation and their families," he added.