Howard Johnson launches new website, mass marketing effort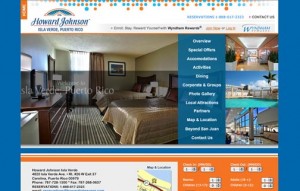 Following the recent $1.1 million remodeling of its Howard Johnson hotel in Isla Verde, owners Empresas Santana are launching a redesigned website to market the property "to attract new markets and tourists to the island," company officials said Tuesday.
"Today Empresas Santana integrates as part of its operations, a new technological tool, a new website designed to more aggressively market the restored and relaunched Howard Johnson Hotel Isla Verde," said Empresas Santana President José A. Santana.
"Not only do we have a new product with modern rooms and new facilities, but we also have a useful online tool through which consumers may receive a more agile and faster access to general hotel information, quotes and reservations, 24 hours a day," he said.
The redesigned website is the cornerstone of the company's promotional and marketing plan for the property, said Juan Enrique Cruz, sales director of the Howard Johnson hotel.
Consumers worldwide can access updated information on the hotel, its amenities, tourist attractions in Isla Verde, tours and excursions, as well as a calendar of events and a section of attractive offers to stay at the property that will be updated periodically. The online tool will also provide a reservation system or booking engine to enable consumers to make reservations online quickly and efficiently, Cruz said.
Empresas Santana will now market the property throughout Puerto Rico, the Caribbean, Canada, Europe and the U.S. mainland, specifically in markets with direct flights to the island. The use of social media, as well as e-mail marketing, will also be integrated into the plan, Cruz said.
Horizon Multimedia Inc. designed the new website that integrates HTML5 and flash features.