HP challenges Cisco in business networking systems arena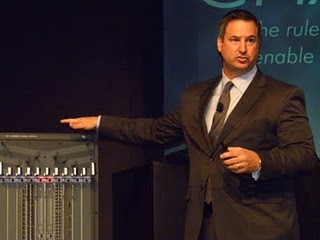 Las Vegas, NV. — Hewlett Packard took direct aim at rival Cisco with the unveiling in this city of its new unified HP FlexNetwork product, designed to enable large client companies to physically and virtually manage their networks through what the Palo Alto-based firm dubs "a single pane of glass" access point.
HP used this year's Interop 2011 conference as the backdrop for its announcement before a large press contingent — including 22 reporters from Latin America, where cloud computing and next-generation systems are gaining ground.
"Customers are looking for vendors driving a systemic change in networking to eliminate complexity, improve agility and increase performance," said Marius Haas, senior vice president for HP's Networking division. "HP's new modular campus switches outperform Cisco's in-class products head-to-head in each category, while HP's single-pane-of-glass management tool alone does what it takes Cisco 30 different tools to do."
HP first introduced its unified networking products about 18 months ago with software and switches that enabled client companies to start small and move up as they needed larger infrastructure, said Dave Donatelli, executive vice president for HP's enterprise servers, storage and networking division.
"Because of a lack of competition, innovation has been slow and customers have paid the price for that," Donatelli said during a news conference Monday. "Innovation is critical, especially because businesses are changing at a rate we've never seen before."
One of the key features of HP's FlexNetwork suite of products is that it open-based, thus allowing client companies the ability to integrate different software platforms for video and mobile computing– an element that is both convenient and cost-efficient, Haas said.
Coupled with the FlexNetwork launch, HP also unveiled the latest version of its IMC software solution designed to manage the entire HP Networking portfolio as well as more than 2,600 network devices from more than 35 vendors, of which more than 1,000 are from Cisco.
Benefit to Puerto Rico
HP's newly unveiled FlexNetwork service caters to public and private sector organizations looking to grow, but that cannot afford to start from scratch.
In the case of Puerto Rico, where central and municipal governments are looking to digitalize their services, such a system would be the right fit, Carlos Meza, Americas product manager for HP Networking, told News is my Business, the only media organization from Puerto Rico invited to the event.
"FlexNetwork is designed precisely to change the rules of the game when it comes to networking. In the case of Puerto Rico, HP is contributing by talking to municipalities traditionally tied to legacy systems about the abilities that they could have through the integration of wireless switching, routers and other equipment that will help them grow and reach more clients without it representing a prohibitive expense."
That's not to say, however, that HP's new tools are inexpensive. Depending on the size of the business and the transactions it must oversee on a daily basis, a FlexNetwork system can start at $38,000 when it becomes available during the second half of the year.
The information and documents contained in "News is my Business" are property of this site. You may not copy, distribute or use this information without the express written permission of this site's creator, unless it is for personal or educational purposes. Fees for commercial or for-profit use apply.