Moody's: Pension bonds face imminent payment default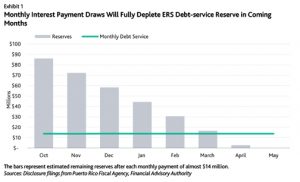 In the coming months, the Commonwealth of Puerto Rico will default on bonds issued by its Employees Retirement System following the steady depletion of the bonds' debt service reserves, Moody's predicted in a report released Monday.
"The impending end of regular payments underscores that efforts to resolve Puerto Rico's debt crisis will force an assessment of pension benefit sustainability, pitting bondholders against pensioners," the ratings agency said.
In June, then-Gov. Alejandro García-Padilla signed executive orders suspending the government's payment obligation for both ERS and General Obligation debt service, leaving ERS bondholders reliant on debt service reserve funds. The GO bonds defaulted on July 1.
Since October, owners of the outstanding $3.1 billion of ERS bonds, which were issued in 2008 to shore up the Commonwealth's largest retirement fund, have been receiving monthly interest payments of approximately $14 million only because of draws on reserve accounts.
"However, we expect that the commonwealth will exhaust those reserves by May," Moody's said. "The bonds are secured only by the ERS's pledge of employer contributions — not by plan assets — and Gov. [García] Padilla's orders suspended the ERS's obligation under the bond resolution to use employer contributions for debt service."
Moody's believes "the looming ERS bond default foreshadows a coming conflict between pensioners and creditors."
Puerto Rico's pensions are now only months from depleting their liquid assets, which amounted to $655.3 million as of November 2016.
"By the most recent forecast, those assets will be depleted either in the fourth quarter of fiscal 2017 (which ends June 30), or in the first half of the 2018 fiscal year, which starts July 1," Moody's explained.
"The executive orders appear not to have helped extend the life of ERS assets because they also allowed corresponding offsets in the government's pension contributions, effectively reallocating pension contributions to the government's other operating needs," the ratings agency noted.
Once ERS's liquid assets run out, continuing to pay promised retirement benefits to the plan's approximately 97,000 retirees would require approximately $1.5 billion a year, or about 8.7 percent of governmental fund revenue (based on fiscal 2017 projections.)
"Despite the fact that Puerto Rico laws attribute a higher priority to payment on the government's GO bonds, we assume that the government, before completing any debt restructuring, will treat ongoing pension benefits as essential expenditures and try to provide for them even while defaulting on debt," Moody's said.
"The eventual overhaul of Puerto Rico's liabilities, however, will likely entail sacrifices from pensioners as well as bondholders," it predicted.