AT&T expands Internet coverage in Plaza Las Américas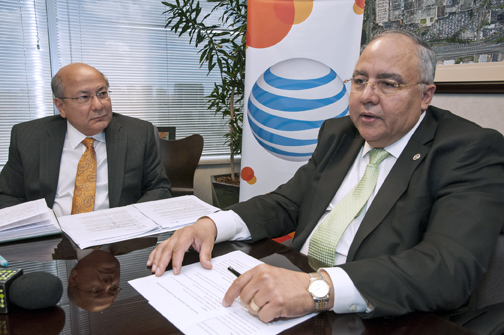 As part of its continuing network investment to support growing demand for advanced wireless devices and services, AT&T Puerto Rico has expanded its mobile Internet coverage at the Plaza Las Américas Mall by completing the installation of a new Distributed Antenna System to enhance the customer experience throughout the facility, company officials announced Thursday.
A DAS installation consists of multiple strategically placed antennas that distribute AT&T's wireless network coverage throughout the Hato Rey shopping center, providing for more efficient management of wireless capacity in heavily-trafficked areas.
DAS has the ability to provide enhanced, consistent wireless coverage to customers in indoor or outdoor spaces where geographical limitations — terrain, building construction, etc. — or crowd density might otherwise prevent an optimal wireless experience.
The shopping center with more than 300 stores in a 1.8 million square-foot retail space attracts thousands of visitors daily. By installing more than 30 antennas in the interior of the shopping mall, AT&T expects to keep customers connected during their shopping experience in virtually every area of the mall, said José Juan Dávila, general manager for AT&T Puerto Rico & U.S. Virgin Islands.
"We want our customers to have a great network experience wherever they are, no matter what they're doing — whether that's making a call, checking email, downloading apps or surfing the Internet," said Dávila.
The Plaza Las Americas DAS installation is part of AT&T's Project Velocity IP (VIP), a multi-year plan to invest for growth, announced in 2012. Through this investment, AT&T is supporting its customers' growing desire for high-quality, fast wireless and wired services.
As part of Project VIP, AT&T is deploying small cell technology, macro cells and additional DAS, which will increase the density of our wireless network. The wireless network densification will further improve network quality and increase spectrum efficiency.
"With initiatives like Project VIP, we're continuing our investment in the wireless network, and providing enhanced wireless coverage at Plaza Las Américas is just one way that we're investing in Puerto Rico," he said.
DAS technology helps improve the mobile Internet experience by shortening the distance a request must travel. The additional capacity also is expected to help improve call reliability, boost data traffic capacity and enable more consistent network access to help customers make the most of their AT&T devices.
"We're constantly working to provide our customers with the best experience while visiting Plaza Las Américas to buy in our stores, eat at one of the restaurants or just to enjoy one of the events that take place here," said Franklin Domenech, general manager of Plaza Las Américas.
"Now we further improve this experience by having an enhanced wireless coverage of AT&T which will allow our visitors to enjoy seamless mobile communications in all areas of the shopping center," he said.
This is the second time in recent weeks that Plaza Las Américas has been the focus of a technological upgrade. In February, Liberty Puerto Rico announced the launch of Plaza Wi-Fi, a wireless network to access high-speed Internet in all of the shopping center's common areas.