Jamaican lottery scams fund drug traffickers, violent criminal gangs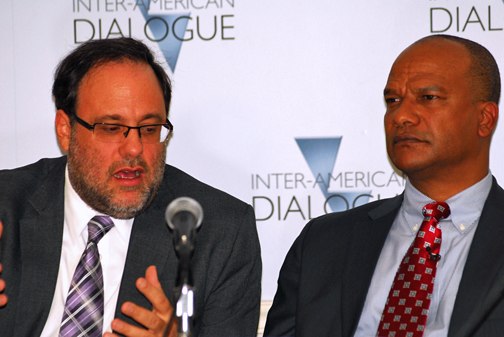 WASHINGTON — Jamaican security officials are cracking down on telephone and Internet lottery scams that prey on elderly Americans, then drain their victims' bank accounts to finance drug trafficking and other illegal activities that fuel violence throughout the Caribbean island.
"The lottery scam is a type of advanced fraud, where typically the perpetrator contacts the victim to announce they've won a prize — usually in the millions of dollars," said Peter Bunting, Jamaica's minister of national security. "But in order to collect they have to pay a fee, and whatever money they pay will be stolen."
He added: "These people only need a few successes. The email generally is just an introduction. Then there's persuasion that takes place in a telephone conversation. They invest weeks of time to gain the trust of that person. When you look at the selection of victims, generally they're elderly — 75 to 90 years old. Oftentimes these people are vulnerable, lonely and some may have early stages of dementia."
Bunting was among several Jamaican officials who spoke during a Feb. 22 seminar at the Inter-American Dialogue, a U.S. think tank. The event attracted more than 70 people from half a dozen Caribbean embassies in Washington, as well as representatives of the U.S. Drug Enforcement Administration, the Inter-American Development Bank and the Pentagon.
Bunting said the Jamaican government is concerned with lottery scams for three reasons.
"First are the financial losses and emotional trauma caused to the victims. This is one of the cruelest types of scams, because the victims are typically elderly," he said. "Second is the damage this does to Jamaica's reputation and its impact on legitimate businesses. Finally is the fact that most of the proceeds end up fueling violent criminal gangs. In the parish of St. James, as much as 40 or 50 percent of violent criminal activity is related in one way or another to the lottery scam."
Violence is rampant
Jamaica is already cursed with one of the world's highest homicide rates. In 2010, according to the United Nations Office on Crime and Drugs, that rate was 52 per 100,000 — making Jamaica the fourth most-violent country after Honduras, El Salvador and Côte d'Ivoire.
Bunting said 247 gangs operate in Jamaica, and that last year, these gangs committed two-thirds of all murders. In addition, he said, 21 gangs make money from lottery scams, including all 17 gangs in St. James, where lottery scams are most prevalent.
"Apart from the legacy of gangs and guns we inherited, we also have some dysfunctional elements in our own culture. And unlike drug trafficking, [with lottery scams] you don't need a great amount of resources," said Jamaica's security chief. "There's not really any single kingpin you can point to, and it's evolving as our remittance companies get more vigilant."
Last year, the Jamaican government unveiled its Major Organized Crime and Anti-Corruption Task Force (MOCA), whose slogan is "Take the Profit Out of Crime." Bunting said "it's the first fully vetted special investigation unit in the English-speaking Caribbean. It's multi-agency, its focus is financial, and it has investigative and intel capabilities."
"While we ideally want convictions for principal activity, we would take disruptions of their criminal network as second-best. If we can arrest them and get convictions on tax evasion, smuggling or having assets they can't declare as legitimate, and we can go after those assets, then we'll do that."
In 2012, this new unit conducted 39 operations resulting in the arrest of 367 suspects, 99 of whom were later charged with crimes. In addition, police seized 121 vehicles, 731 communications devices, $33 million in cash and lead lists containing 1.2 million names.
So far this year, Bunting said, MOCA "has apprehended a number of suspects" as well as electronics, jewelry and at least $200,000 in cash. Strategic partners in this effort include Jamaica Post, the U.S. Postal Service, Western Union and MoneyGram.
"We're going after the perpetrators, who are putting their neighbors, friends and family with legitimate jobs at risk. We're connecting the dots and starting to see significant reduction of scamming activity in St. James," he said, pointing to a 40 percent drop in murders and shootings in that parish over the last six months.
St. James, home to the Montego Bay tourist resort and free zone, is particularly affected by lottery scams because of its large concentration of call centers, said Mark Golding, Jamaica's minister of justice.
"The parish has a large pool of young people who were trained in the techniques of telemarketing and offshore betting operations. They know how to handle objections and gain people's confidence," he said. "Just about the time we were seeing serious reductions in narcotics trafficking and gangs were hard-pressed for income, this new illicit activity arose. Gang members themselves may not be the dialers, but in many ways they extort the dialers, sell them protection and carry out reprisal attacks if the scammers double-cross each other."
Learning from Nigeria
To combat the growing scourge, Golding said Jamaica is learning some lessons from Nigeria, which has long been associated with mail fraud and, more recently, phony Internet scams.
"Nigeria has developed some advanced legislation in the last four or five years, but because of our fairly antiquated laws, it was difficult to charge perpetrators with a specific scamming activity," Golding explained. "In 2010, we passed the Evidence Special Measures Act, which enables victims who can't attend court to give evidence via an audiovisual link from a remote location which may be outside of Jamaica. That's important in terms of getting witnesses who have been scammed to give evidence."
The bill also provides for restitution to victims in a criminal trial, so there's no need for a separate civil suit for compensation.
"We recognize that it's difficult to get to a criminal kingpin, say a narcotics kingpin, by stopping a go-fast boat," said Golding. "Typically, those people are four or five levels away from the real kingpin. However, they tend not to stay as far away from their money. While most criminals are prepared in their career to face a few years in jail, they really hate the idea of going out of jail broke."