Krispy Kreme introduces 3 new donut creations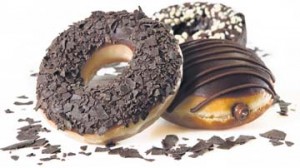 Chocolate lovers, rejoice. During the month of September, Krispy Kreme Doughnuts will be offering three new sweet treats dressed in brown: Triple Chocolate Filled, Double Chocolate Iced and Almond Chocolate Cake.
As its description says, the "Triple Chocolate Filled" donut is filled with a chocolate cream, covered with a thin layer of chocolate and decorated with chocolate creme lines. The "Double Chocolate Iced" donut offers a unique experience by combining a thin layer of chocolate topped with dark chocolate shavings. Rounding out the trio is the "Chocolate Almond Cake" donut, which is a glazed chocolate sponge cake decorated with rich bits of almond. These varieties will be offered only through Sept. 30.
"At Krispy Kreme we like to please our customers. We continually receive recommendations of flavors and ideas for new products," said John M. Cook, CEO of Caribbean Glaze Corporation, the Krispy Kreme franchisee in Puerto Rico. "These three new donuts will satisfy the palates of chocolate lovers and were created exclusively for the Puerto Rico market."
Krispy Kreme has four stores located in Caguas, Guaynabo, Dorado and Ponce, the newest establishment added to the fast-growing chain.