Lexmark shifts focus from printers to business solutions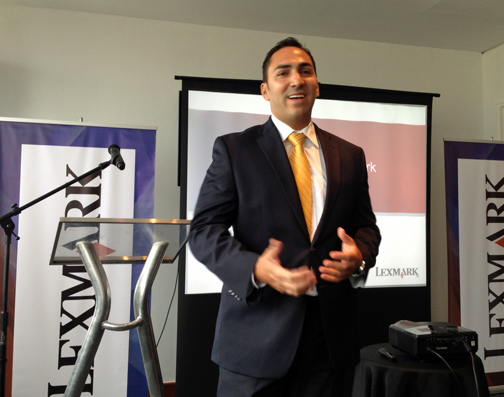 After more than a year of quietly reshuffling its Puerto Rico operation, Lexmark executives met with members of the media Thursday to outline future plans that call for a marked shift from being strictly known as a consumer-oriented, multi-functional printer maker to a solutions provider catering to a corporate market they say is leaning more toward adopting digital technologies.
Anticipating such a change, Lexmark began reworking its strategy in 2007, through the launch of multifunctional corporate equipment and the acquisition of software companies to provide integrated solutions.
"Throughout 2012, Lexmark maintained its leadership in the Puerto Rico market in the color multifunctional laser segment for work groups and monochromatic multifunctional laser equipment, keeping an upward trend in both categories," said José Padín, Lexmark's manager for Puerto Rico.
But despite its stronghold, the fact remains that Lexmark virtually fell off the radar locally, where it went from occupying significant square footage in Guaynabo's International Marketing Center, to smaller digs at Metro Office Park.
Gone are the major billboards and sponsorships, which have been replaced with a smaller workforce — of 14 people — that is setting its sights on providing end-to-end solutions, he said.
"The consumer market requires investing in ads, billboards because we competed with Hewlett-Packard, Walmart, Sam's, Costco," Padín said. "The business we're looking at now is much more about consulting and the markets we're attacking are more niche, so that massive presence is no longer strategic."
"We sold our inkjet printer business because we wanted to reinvest that money on enterprise solutions," said Carlos Velasquez, director for the Central American and Caribbean region.
Lexmark's definitive exit from the inkjet equipment production business came earlier this year when Funai Electric Company, Ltd. announced its acquisition of Lexmark's inkjet-related technology and assets for approximately $100 million. In April, Funai — which manufactured inkjet hardware for Lexmark since 1997— picked up more than 1,500 inkjet patents, which it will use to launch new inkjet hardware and supplies under its own brands.
"As we continue our transition to becoming a leading end-to-end solutions provider, this transaction essentially completes our exit from the ownership of inkjet-related assets, although we will continue to support our existing customer base with the sale of inkjet supplies," said Lexmark CEO Paul Rooke said upon announcing the deal. "Funai has been a trusted partner of Lexmark's since 1997, and I am fully confident in Funai's ability to deliver high-quality inkjet supplies for Lexmark."
Now that Lexmark is looking to grow in end-to-end services to compensate for the inkjet phase-out, it is hiring staff in Puerto Rico that can specialize in sales consulting, solutions, pre-sales and business processes, "to go to our clients to share that new vision," Padín said.
Meanwhile, Velasquez said he has spent recent months visiting corporate clients throughout his footprint and has seen an interest in the Puerto Rico market for "smart data capture."
"In general, the topic of managing a better balance of physical documents and digital documents at the office is taking off. Puerto Rico, being a market closer to the United States, could be more advanced than other countries in that aspect," said Velasquez, who headed Lexmark's operations in Colombia for several years.