Liberty Puerto Rico relaunches video on-demand platform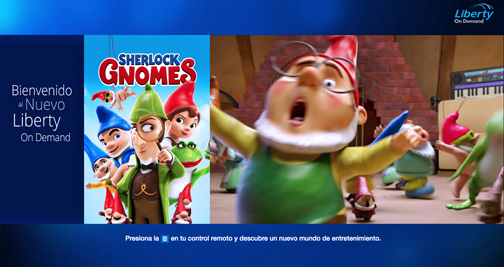 Liberty Puerto Rico has relaunched its video on-demand service with a new user-friendly platform, features and high-definition content.
In addition to an easier-to-navigate and dynamic platform, Liberty on-Demand carries more than 13,000 movie titles, TV shows, event and music programs, available 24 hours a day.
The majority of this content is free programming from the channels customers are subscribed to in their packages. Furthermore, most titles are available in high definition.
"Customers will also find a variety of new movie releases arriving soon after they are shown in theaters or on the same day they are released on DVD, many times before they are released on other video rental services," the provider stated.
The platform also features new independent movies the same day that they premiere in movie theaters.
"We want Liberty on-Demand to become our customers' preferred destination to enjoy content from their favorite channels whenever is most convenient for each person in the home," said Waldo Hooker, vice president of product and customer experience at Liberty Puerto Rico.
"With this new design, we are confident that we will bring them the best entertainment experience with the largest variety of shows, documentaries, concerts and blockbusters available in the market," he said.
Liberty on-Demand's redesigned platform also allows customers to forward, pause or rewind content without the need of a DVR box.
It also offers a list of trending content among Liberty's customers and recommendations based on viewers' own usage patterns, so they can discover even more programming.
Customers can also set up parental controls to block children from exposure to adult content or event content parents want to restrict for their children.
Accessing Liberty on Demand is free for all Liberty TV customers with HD or HD/DVR set top boxes. However, access to the TV networks and certain content will depend on the video service they are subscribed to.
To rent paid content, customers must enter a purchase PIN that they can create from their remote control.