Liberty's 'WiFi Tour' aids thousands across PR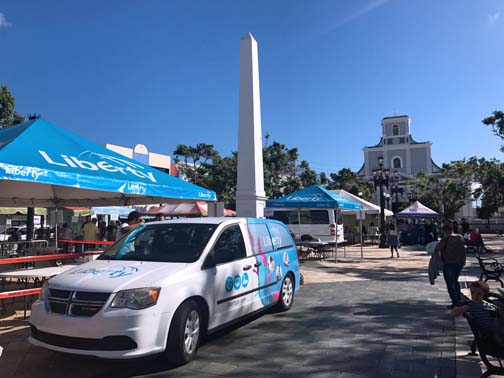 Liberty Puerto Rico's WiFi Tour has successfully provided internet connections to thousands of people residing in communities where there is little to no online access since it kicked off Oct. 20, helping them fulfill their basic communication needs, company officials said.
In addition to a WiFi connection, those present have received medical attention, counseling to fill out their federal aid applications, hot meals and entertainment. More than 800 people have been cared for by personnel from the University of Puerto Rico's School of Medical Sciences, while staff from the Puerto Rico Senate and the Federal Emergency Management Agency have helped complete over 1,800 federal aid applications. The Puerto Rico Department of Family Affairs has had various social workers on site as well.
"To bring an internet connection to these communities that have been left devastated after Hurricane Maria's trek through Puerto Rico is important for us not just because we are internet providers, but also because we feel the need to help," said Gabriel Palerm, vice president of sales, marketing and media of Liberty Puerto Rico.
"This is part of our social responsibility philosophy. Besides, in a moment like this, having internet access becomes even more important to those communities because it helps them recover communication with their families and the outside world," he said.
Liberty delivers WiFi internet driving three mobile units that are used for first aid communication efforts after a natural disaster. These units are equipped with a satellite antenna that transmits in a Ku Band frequency and provides internet speeds of 5 to 10 Mbps for download and 1 to 2 Mbps for uploads.
During the tour, there have been more than 10,000 hot meals served by Chefs for Puerto Rico, an initiative created by renowned Spanish chef José Andrés. In addition, the Instituto de Banca has provided barbers who give haircuts and grooming services for free.
Walgreens also joined the tour, vaccinating more than 200 people while National University College personnel took blood pressure readings for about 75 people. In each stop, the Institute of Puerto Rican Culture has been offering entertainment for the enjoyment of all those present.
Liberty's WiFi tour kicked off in Comerío and visited the municipalities of Toa Baja, Naranjito, Barranquitas and Naguabo. This week, the tour stopped in Vega Baja on Oct. 30, Florida on Oct. 31, Arecibo on Nov. 1. It will roll into Cayey on Nov. 2 and Humacao on Nov. 3.
Next week, the tour moves to Fajardo on Nov. 6, Ceiba on Nov. 7, Yabucoa on Nov. 8, Guayama on Nov. 9, and Salinas on Nov. 10. More municipalities will be added to the tour, Liberty confirmed.
The effort is part of an alliance between Liberty, the Puerto Rico Telecommunications Regulatory Board and the government of Puerto Rico to bring, along with WiFi, health and entertainment services to various municipalities in need.
Liberty's WiFi tour is made possible by GFR Media and Univision. Other collaborating entities that are volunteering their services during the tour include Bahia Urbana, Autogrupo 65, First Bank, World Central Kitchen, Intelsat, Kymeta, Erwin Hymer Group North American, Inc, Walgreens, Instituto de Banca and National University College. Agencies from the government sector joining this initiative include the Governor's Office, the Puerto Rico Senate, the Institute of Puerto Rican Culture, the Puerto Rico Department of Family Affairs, the UPR School of Medical Sciences, and the Department of Consumer Affairs.