Local nonprofit collects 1K+ lbs. of garbage at Aguada beach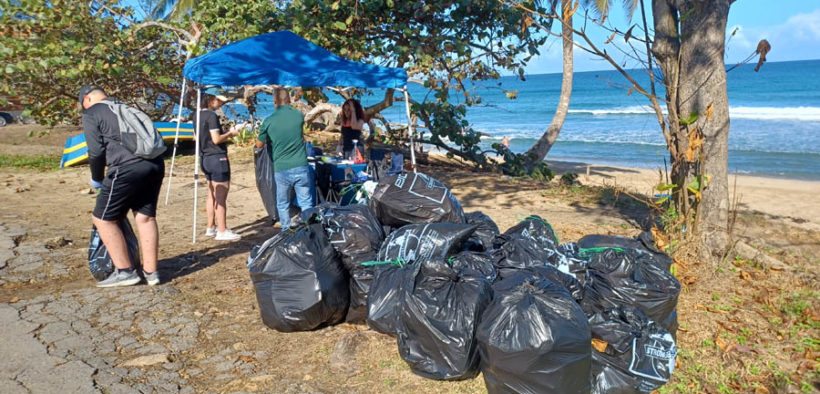 Nonprofit organization Conservation Opportunity announced the collection of more than 1,000 pounds of trash found in the Punta Río Grande beach in Aguada, where they held their first activity for 2023.
The event was part of the entity's campaign for Giving Tuesday Puerto Rico 2021, "Disfruta con Conciencia," in which they installed a second interpretive panel to promote the conservation of natural resources, as well as motivating the public to keep natural resources clean.
More than 20 volunteers helped, pushing the total to 40 participants among which were employees of the Aguada municipality, other associations, and people from the benefitted community.
The municipality brought 15 government employees, and provided about four trucks of heavy equipment, to facilitate transporting the collected material.
"We want a clean and garbage-free Aguada, so we're joining this great effort by Conservation Opportunity to keep our coasts clean, to protect wildlife, water quality and the beauty of our beaches," said Aguada Mayor Christian Cortés-Feliciano.
Likewise, representatives of organizations such as 4H and the Association of Fishermen of Río Grande and Espinar took part in the activity, in which they were able to collect pyrotechnics, vehicle tires, toys, household appliances such as refrigerators, stoves, cabinets, and garbage in general.
"It fills us with great joy to start the year impacting this beach and community that was in need, because it's critical for us as an organization to continue carrying the message of conservation and cleanup of natural resources on our island," said Conservation Opportunity Founder Fabiola Torres.
Conservation Opportunity said the Punta Río Grande beach was selected because it is one often visited by sea turtles and endangered species, for which they hope that the efforts will contribute to the "restoration of the beach."
Currently, the other sign installed as part of the campaign is located since August 2022 at Puente Roto of the El Yunque National Forest, and there are about seven signs to be installed without confirmed locations yet, organizers stated.
Conservation Opportunity was one of the entities that contributed to the island wide beach cleanups invoked by reguetón artist Bad Bunny after his concerts in Puerto Rico, during which they collected approximately 286 pounds of trash in the Cabezas de San Juan in Fajardo, in collaboration with Para La Naturaleza, another local nonprofit organization.
Conservation Opportunity was created amidst the COVID-19 pandemic focused on spreading awareness of environmental issues in Puerto Rico, as well as providing information of science and environment related job positions through their platforms and website.