Looking for a gig? Guisito.com is the online place to be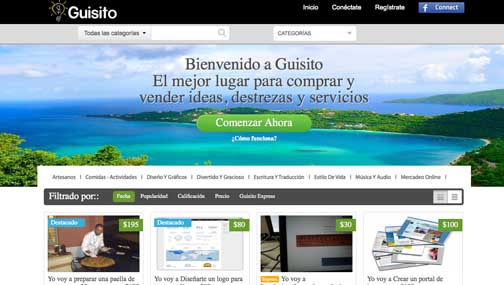 Everybody knows that Puerto Rico's economy is tough and finding a job may be no easy feat. And even if you have a job, challenging times such as these often bring out the creativity in people who will turn to their natural or learned talents to make ends meet.
But, how do you get the word out about your availability? How do you get the masses to learn about your product or service? While social media platforms are fast-becoming popular marketing tools, a recently established website, Guisito.com is looking to become the online place for Puerto Ricans to list their "gigs" — for free.
Developed by business partners Félix Camacho and Roberto Lázaro, Guisito.com is an innovative concept through which users can sign up to list a product or service, offer details of what the customer should expect, along with the fee. Transactions are closely monitored to guarantee that the promised job is completed and the payment is made, once it is to a customer's satisfaction, Camacho said.
"For a while now, the talk has been about a lack of jobs and people leaving the island," he said. "We figured we had to do something for people with some sort of talent or who had studied a career to put themselves out there, without necessarily starting a business, which is a hard thing to do."
With that in mind, the partners began working on the platform about eight months ago, launching it about a month ago.
"We all need a gig. There are many services that can be rendered electronically, and others that may be done in person," said Lázaro. "We want to provide a technological platform for all of those people who want to sell a product or service, with the goal that they stay in Puerto Rico."
Gigs can range from making and delivering a "paella," to offering on-site handyman services, to designing a website or logo to be delivered online. Participants can also sell physical items as well, as the platform includes a shipping mechanism.
Lázaro said Guisitos Inc., the company responsible for launching the project, retains a 10 percent commission over the fees charged per gig. Gigs must be paid for using the PayPal platform, he said.
Furthermore, individuals are responsible for reporting the income generated through the platform on their tax returns, a condition that is stipulated in the user's agreement, Camacho said.
Because the project is getting off the ground, the number of gigs currently listed is limited. However, the two expect to have 20,000 users from Puerto Rico in a year's time, and possibly another 5,000 to 10,000 international users, Camacho said.
To get that done, Guisito.com is being promoted on Facebook, where more than 500 people have "Liked" the page, and a campaign is in the works to visit local colleges to get the word out, Lázaro said.
"We're doing this on our own time as a contribution to Puerto Rico, so that unemployed people can look for their gigs and those who do have a job can earn extra income, and if possible, export their services," Lázaro said. "All we need now is support, users who adopt the platform."