MasterCard features El Ñaqui food truck in 'cashless pioneers' series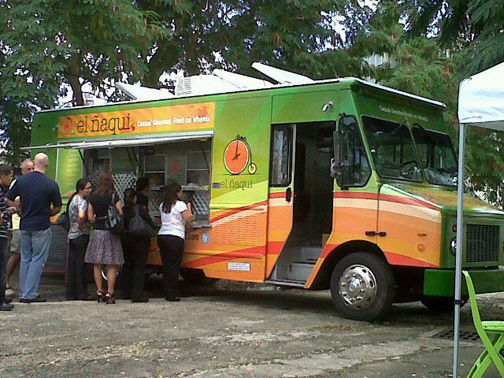 MasterCard WorldWide has chosen the El Ñaqui gourmet food truck as the Caribbean region's sole participant in its "Cashless Pioneers" international series, an initiative that highlights the stories of businesses that stand out for their innovation and visionary take on electronic payments around the world.
El Ñaqui is part of the island's gourmet food truck movement and was chosen because of its owners's willingness to challenge the perception that street food is a cash-only business, credit card officials said. Their story was published this week in the MasterCard "Cashless Conversations" blog.
The "Cashless Pioneers" series is a social media initiative MasterCard WorldWide launched to showcase the stories of businesses in different parts of the world that embrace technology and electronic payments to offer customers a higher level of service, while strengthening their operation.
"At MasterCard we are deeply committed to the local business community, especially in Puerto Rico, because we see them as key allies in helping us achieve our objective of creating a world that moves beyond cash," said Manuel Catedral, general manager of MasterCard in Puerto Rico.
"With this initiative we are showcasing businesses such as El Ñaqui that are new, fresh, modern, and share our vision," he said. "This is why today we are telling their stories, up front and center, so as to show why electronic payment is the safest, simplest, and most intelligent payment method."
Known for its creative menu and the quality and freshness of their dishes, El Ñaqui is part of the "gourmet gastronomy on wheels" trend that has grown in popularity over the past few years in Puerto Rico. These mobile kitchens, which began in cities such as New York and Los Angeles as a casual dining concept and known for only accepting cash, today have become an alternative that is modern, fun, and delicious, especially for lunchtime.
As part of its innovative concept, El Ñaqui has spread the word of its existence through social media, which they use to advertise their specials and menu.
"Technology is a big part of the market and it is changing the way business is done. This is why when we created El Ñaqui we wanted to adapt our business outlook to that of the modern consumer, offering the convenience of paying with debit or credit card," said José Bengoa, owner and executive chef of El Ñaqui. "This sets us apart from the competition because it allows us to reach our customers in a different manner, it strengthens us as a business, and it gives us greater peace of mind thanks to the inherent added security."