Nissan unveils redesigned '14 Versa Note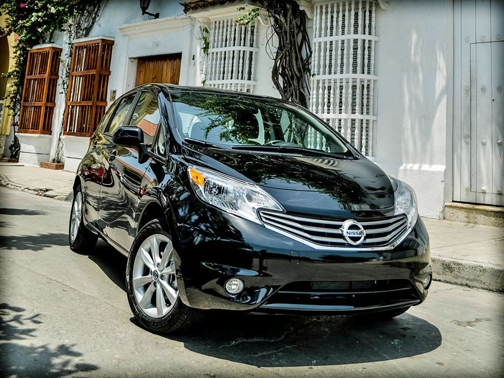 The Nissan Versa family of vehicles, a long-standing sales and share leader in Puerto Rico's competitive entry-level segment, has integrated the redesigned 2014 Nissan Versa Note into its portfolio of products, the company announced.
The second-generation hatchback went on sale at Nissan's Puerto Rico dealers this month, with the intention of fulfilling changing consumer needs and expectations and remaining ahead of the other players in the entry-level category.
"As the companion to the popular Versa sedan, the all-new Versa Note celebrates the unique qualities of its 5-door hatchback design — something we're calling 'Your Door to More' Versa Note is a passion enabler, thanks to its exceptional combination of versatility, technology and value," said Juan Santana-Chea, Nissan's commercial director in Puerto Rico and the U.S. Virgin Islands.
"It's transformative, satisfying owners' emotional and rational needs with features such as sleek styling and features like our 'Around View Monitor' at an affordable price," he said.
The 2014 Nissan Versa Note features sculpted, modern styling designed to accomplish two things: provide enhanced aerodynamics to help improve fuel economy and to stand out from the crowd of entry-level competitors. Its dramatic shape and proportions provide an energetic look that reflects the active lives of its target buyers.
The Versa Note features aerodynamic and sleek exteriors. The CVT-equipped Versa Note models include Nissan's first-ever Active Grille Shutter, which limits the amount of air entering the engine compartment, reducing drag force by 0.01. The Active Grille Shutter is generally closed at speeds above 20 miles per hour.
The iconic front grille and large multi-reflector headlights are paired with Note's "boomerang" rear taillights, which are similar to those found on the Nissan 370Z and Nissan JUKE.
Versa Note's dynamic design also takes full advantage of use of Nissan's global "V" platform. It features a long 102.4-inch wheelbase helping maximize interior roominess, while six-inch shorter front and rear overhangs than the previous Versa hatchback help provide a sporty stance and parking maneuverability.
Another key aspect of the new platform and drivetrain is an estimated 300-pound reduction in overall weight – including more than 200 pounds from structure optimization and more than 50 pounds through use of the new engine, CVT transmission and driveshaft.
"The Versa Note body is also actually shorter but has more interior space than the previous Versa hatchback, another bonus feature of the new V platform," said Santana-Chea.
Inside, the roomy five-passenger Versa Note offers more legroom and headroom, as well as increased cargo space.
"Common industry practice is to compromise either passenger room or cargo space, trading one for the other," Santana-Chea said. Note's advanced design gives you both, enabling owners to take their passions — and friends and family — anywhere."
Perhaps most importantly to buyers looking for value not just in the initial purchase price but also in day-to-day operation, the 2014 Versa Note is designed to provide the ideal combination of fuel economy and performance.
"At Nissan, innovation is more than just a new feature or technology, it's about helping people live their lives a little better, a little easier," said Santana-Chea. "This all-new Versa Note does that in many ways, with styling that excites, room for everyone, interior versatility for life's spontaneous moments, fuel efficiency for fewer trips to the gas station, entertainment and navigation systems that complement users' smart phones and other devices rather than compete with them. It truly is the door to more."
The Versa Note's price starts at $16,350.