Triple-S donates $250K to nonprofits contributing to P.R.'s recovery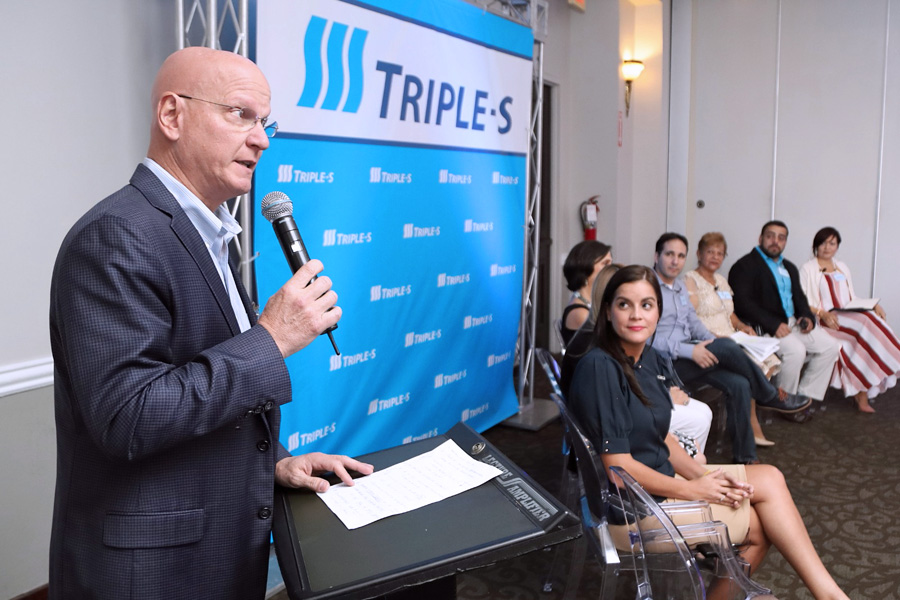 Insurer Triple-S is making a $250,000 donation to seven local community organizations that since Hurricane María slammed into Puerto Rico last year, have been contributing to the island's recovery and development.
The donation was announced following a gathering of representatives from the nonprofits, who offered details of what they have been doing in their communities.
The funds are part of the aid sent to Puerto Rico by the Blue Cross Blue Shield Association, of which Triple‑S is a member.
"In view of the emergency's magnitude, we received help from other BCBSA members in the form of goods and medical supplies, and we made alliances with countless organizations to distribute them to the community, primary care physicians and hospitals. We also received funds for relief and recovery," said Roberto García-Rodríguez, CEO of Triple‑S.
"A portion of these were distributed to Triple‑S employees who suffered major losses and the balance is being awarded to seven organizations that continue to serve and strengthen our communities," he said, noting that the chosen nonprofits were part of a group of 15 that were initially in the running for the funds.
The seven selected organizations are:
Consejo Renal – offers services and support to patients with kidney disease;
Iniciativa Comunitaria – provides health and prevention services to marginalized populations;
Asociación por la Inclusión de Adultos con Discapacidad Mental (APIADI) – offers services and advocates for the rights of adults with intellectual disabilities;
Centro Ramon Frade para Personas de Tercera Edad – offers nutritional assistance, recreation and other services to seniors;
Institución de Niños Andrés – offers shelter to children who are victims of abuse and neglect;
Albergue El Paraíso – offers services and permanent housing to the homeless population; and,
Beige Caps – offers free and immediate health services after an emergency.
The executive described this donation as a pre-launch of the Triple‑S Foundation.
"Although we are still structuring the Foundation, it is fitting that we give this aid to organizations that are still working so hard to meet the vast needs in our communities," said García-Rodríguez.
He explained that holding a roundtable discussion has been a way to highlight these organizations' work and lessons learned after Hurricane María.
"María managed to unveil many facets of our island. One of these is the extraordinary work carried out by community-based organizations that have adapted to continue meeting the needs of these communities," the executive said.
During the discussion, a recurring theme was the importance of partnerships with other organizations to expand the scope and reach of their work, as well as the need for contingency plans.
"There is hunger in Puerto Rico and María made it more evident," said Valerie Guzmán of Albergue El Paraíso, adding that in the face of this experience, today it is more important than ever for organizations such as the one she leads to have abundant provisions to withstand a crisis.
On the other hand, Yorelys Rivera, executive director of Iniciativa Comunitaria, underscored the importance of partnerships to respond to disasters. She explained that the knowledge they gained in humanitarian missions to Guatemala and Haiti was key to establishing its action plan in Puerto Rico.
"After the hurricane, our response focused on restarting operations for our 10 programs and opening the Bantiox Clinic in Toa Baja just seven days after María. All the help we offered was possible due to the power of the more than 25 alliances we made, our employees and the nearly 300 volunteers who came to work," she said.
Ángela Díaz of Consejo Renal, noted that the crisis caused by Maria drew the public's attention to dialysis patients and made more evident the explosion of cases that in the past 10 years have grown from 2,400 in 2008 to more than 6,000 in 2018.
"It also bluntly uncovered the high mortality rate of patients with kidney failure. But this is not new, in Puerto Rico three dialysis patients die every day, which makes us the jurisdiction with the highest mortality rate. We need doctors for early detection and more epidemiological information on how the disease behaves in our island," said Díaz.
In addition to the roundtable discussion, Triple‑S will provide a platform on its Facebook page for these seven organizations to make their missions known so that those interested in supporting them, either through donations or as volunteers, can do so as well, it announced.