Online ID theft costs Puerto Ricans $2.5M-$4M annually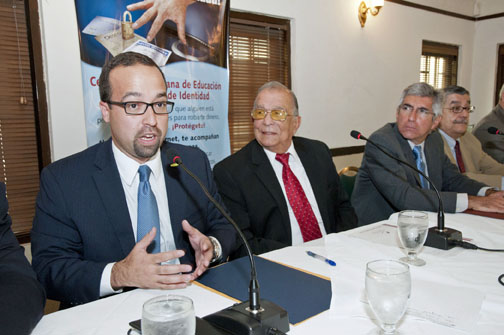 Puerto Rican consumers lose between $2.5 million and $4 million as a result of online identity theft, and the problem is growing, representatives from the Consumer Credit Counseling Service said Wednesday.
The nonprofit will address the issue as part of its weeklong celebration of "ID Theft Prevention Education" week, Oct. 20-27, when it will join forces with the National Foundation for Credit Counseling to spread the word about what to do to prevent falling prey to online pilfering.
"It is estimated that each year about 12 million people [in the United States] are victims of identity theft fraud, which has cost more than $50 million," said Roberto Baerga, president of CCCS, adding, "Identity theft has the fastest-growing crime rate right now because it not only affects the individual, but the entire economy."
On the island, it is estimated that 70 percent of all reported fraud cases are related to ID theft, yet the transgression is not classified or identified as a crime in the Puerto Rico Penal Code, executives said.
The financial and credit industries are not the only ones affected by this type of crime, which also hits security information systems in almost all sectors of the business community as well as the government.
"While financial identity theft — information theft for financial gain — is the best known, other types of identity theft are equally dangerous and potentially expensive," Baerga said. "For example, through the theft of medical information, personal medical records are used to get medical treatment or medication."
ID theft is preventable, he said, and it boils down to education and smart use of the Internet.
According to the Federal Trade Commission, there are six basic ID theft practices: dumpster diving; skimming; phishing; changing a victim's address; old-fashioned stealing; and pretexting. To prevent falling victim, authorities recommend among other things, that consumers be diligent about checking statements, verify a website's security assets, limit information on checks, protect Social Security numbers, and make sure store clerks ask for photo ID when processing a credit card.
"Awareness is an effective weapon against many forms identity theft. Be aware of how information is stolen and what you can do to protect yours, monitor your personal information to uncover any problems quickly, and know what to do when you suspect your identity has been stolen," the FTC said.
It is estimated that identity theft victims lose an average of $5,000 per incident and spend an average of $500 to repair the damage to their reputation, not to mention the time spent on required paperwork.
"This issue is not only a matter of economic and financial loss, it's also about the headache of seeing our rights violated — the right to have well-protected savings and well maintained and well-run accounts," said Eugenio Alonso, chairman of the local trade group's board of directors.