Oriental is 1st local bank to offer mobile check deposit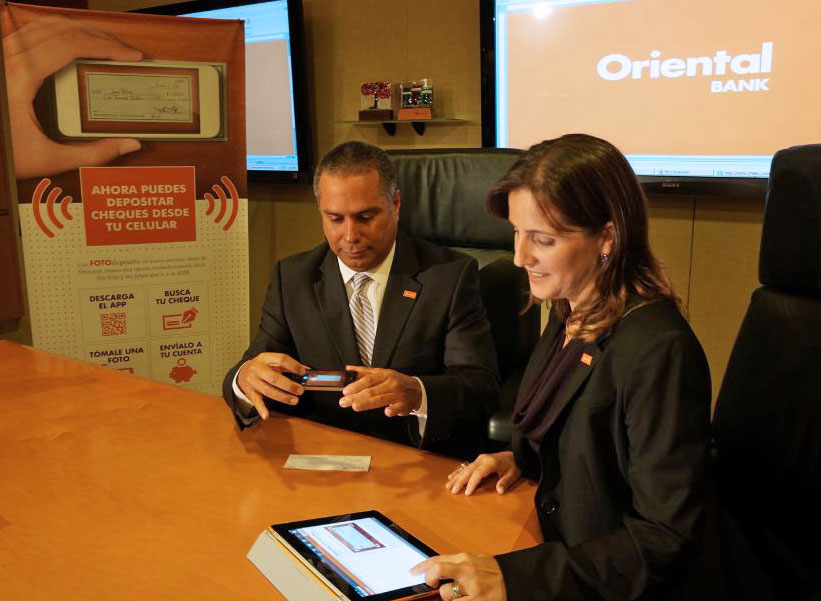 Oriental Bank announced Thursday the launch of "FOTODepósito," a service that allows clients to deposit checks through their smartphones and tablet devices, becoming the first and only bank in Puerto Rico to offer a mobile deposit solution.
Using this practical service that enables individual clients to avoid setting foot in a bank branch again, requires having an Oriental account, being registered for Internet banking, and downloading the bank's mobile application available for Android and iOS operating systems, said Félix Silva, senior vice-president of retail channel at Oriental.
"To use this service, clients just have to access the deposit module from within the application, take a photograph of the check they wish to deposit, identify the account receiving the deposit, confirm the amount and send the deposit. Once the transaction is completed, clients will receive an email confirming the deposit," he said.
Checks deposited by 6 p.m. on a regular business day will be processed and posted on the user's account the next day. Clients are allowed to deposit up to $1,500 per transaction, up to $3,000 a day and $6,000 in 30 days, he said.
Recognizing that security is a crucial issue, Silva said Oriental has incorporated all the security measures and password encryption levels it has currently implemented within its online banking service.
"We added the security modules necessary to make sure that the deposit process does not allow duplicate transactions, while complying with required federal regulations," he said, noting that check images are not saved on the mobile device after the transaction is completed.
To launch the "FOTOdepósito" service, Oriental invested approximately $1.5 million, including research and development, implementation of the technological platform and advertising initiatives. The feature is free and part of Oriental's new portfolio of products and services designed to continue to offer clients a new and different style of banking.
"Over the past 18 months, mobile banking has increased by 33 percent, while Internet banking has decreased by about 10 percent, so clearly, mobile banking is where the market is headed and it's one of our main areas of attention," said Alexandra López-Soler, senior vice-president of marketing and public relations at Oriental Bank.
"If our clients are using their smartphones and/or tablets more often to perform banking transactions, we want to leverage this technology to offer our clients a more agile and convenient banking experience by making the deposit process a lot simpler," López-Soler added.  
This service, she said, comes as a direct response to clients' requests for banking services that make their lives easier.
"We're aware that proximity is one of the key elements clients consider when choosing a bank. With this new service, we exponentially multiply our network of 55 branches, since now our client's mobile devices become a virtual branch," she said.