T-Mobile nixes overage penalties, 'frees' tablets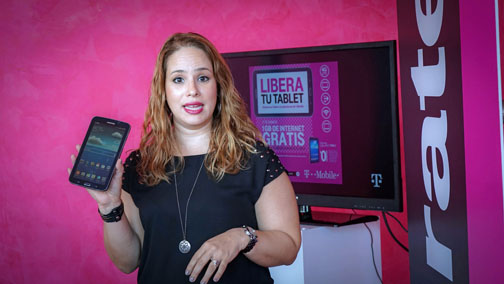 Wireless carrier T-Mobile has spent the last few weeks turning the industry on its head by eliminating contracts and dropping the price on services, making its most recent move Monday with the elimination of overage charges levied on its customers, starting May 1.
By eliminating extra charges on voice, text and data services, the company challenged its main competitors in Puerto Rico — Claro and AT&T — to follow suit.
Millions of consumers are hit with punitive overage charges each year, which prompted T-Mobile to drop the practice — a move that favors clients who have fixed plans that are not unlimited, said Jorge Martel, general manager of T-Mobile Puerto Rico.
"T-Mobile continues to listen to customer complaints, and doing something about it. Overage penalties must end and T-Mobile will lay the groundwork for that to happen," he said. "We're ending the practice of charging for excess use and we want other companies to imitate us."
Traditional carriers' entry-level plans lure customers in with a low monthly fee for a fixed amount of domestic minutes, texts or data. Once consumers go over those limits — even by a little — they're hit with much higher rates, often dramatically higher.
These plans are purpose-built to drive customers over that invisible line into massive overage charges. The result has been a culture of fear, worry and surprise every time the wireless bill arrives. But now, clients who have local plans that include 500 minutes for local calling will not be charged for extra usage beyond their quota; a client had signed up for 500 texts a month will be able to send and receive as many messages as they want, T-Mobile said.
"Charging overage fees is a greedy, predatory practice that needs to go," said John Legere, president and CEO of T-Mobile, who unveiled the company's latest "anti-industry" move on Monday. "Starting in May for bills arriving in June — regardless of [your] plan, we're abolishing overages for good. Period."
"The worst thing about these overage fees is that they're often inflicted on those who can least afford them," added Legere. "As an advocate for consumers, we're putting a stop to that. I personally won't be satisfied until we obliterate this shameful practice from the entire wireless industry."
'Free the tablet'
Last month, T-Mobile Puerto Rico joined its stateside parent's strategy of banishing annual service contracts, through its "Libérate" campaign. On Friday, the carrier took it up another notch by offering LTE tablets for the price of Wi-Fi-only models, throwing in free data through 2014.
Cellular-enabled 4G LTE tablets are more expensive than Wi-Fi-only models, and committing to a year-long data contract can be a burdensome proposal for consumers.
Through its new campaign, T-Mobile is offering 4G LTE-enabled tablets for the same price as a Wi-Fi-only model, with any postpaid activation on a 1GB or more mobile Internet plan with no annual service contract.
"With this announcement, we again free cosnumers from restrictions that usually inhibit tablet users from enjoying their use beyond a Wi-Fi zone," said Lyannete Dávila, senior marketing manager for T-Mobile Puerto Rico. "As of now, clients will be able to use their tablets practically anywhere and anytime they want."
Furthermore, T-Mobile is offering to pay the early termination fees on contracts that customers have with other carriers. And, for both new and existing customers, T-Mobile is offering $10 off its most popular internet data plans through the end of the year.