Parallel18 opens call for 2nd group of startups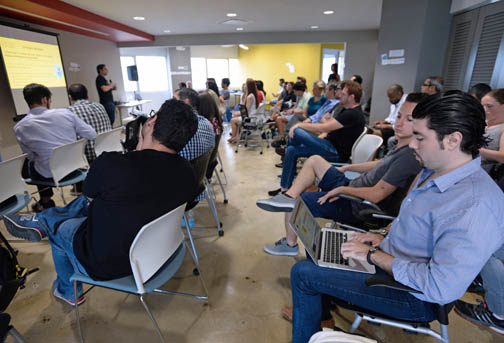 Parallel18 announced Monday its call for applications for the second group of startups, each of which can receive $40,000 as a no-equity grant.
The five-month acceleration program provides each class of up to 40 technology-enabled startups the tools to scale internationally, while pushing the island's technology ecosystem to new heights.
Apart from the perks of scaling a company in a tropical paradise, selected startups will receive a $40,000 grant, entry to a co-working space and access to valuable mentors including Corporate Vice President at Microsoft Javier Soltero and dozens of other highly experienced tech entrepreneurs, the nonprofit said.
Directed by the former Executive Director of Start-Up Chile Sebastian Vidal, Parallel 18 was launched in 2015 as a collaborative effort of Puerto Rico Science, Technology and Research Trust, the Department of Economic Development and Commerce and the Puerto Rico Industrial Development Company to help diversify and jumpstart economic development amid the island's current debt crisis.
"Entrepreneurs are problem-solvers by nature," said Vidal. "Inviting them to Puerto Rico will not only help to foster a culture of innovation, they may also aid in finding better solutions to the crisis the island's been facing for so long and help give the island an economic rebirth."
Applicants for Parallel18's second class must be technology-enabled companies founded within the past three years that are truly innovating their space and have ambition to scale worldwide. Current participants include Nineteenth Amendment, Inbify and SAMY ROAD.
Applications will be accepted until June 13 at 11:59 p.m. (EST) through YouNoodle's platform here.
Parallel18 is attracting startups from all over the world "to promote a more diverse, innovative and entrepreneurial society on the island," the entity said. First generation participants hail from eight countries including Ireland, Spain, Bulgaria and the U.S. and one-third of the first generation's participants were local to Puerto Rico.
Puerto Rico has suffered an economic decline for more than a decade, and each year hundreds of college graduates leave for the mainland because they cannot find suitable employment at home. Parallel 18 was launched to help diversify and jumpstart the island's economic development, and aims to attract innovative startups to scale from Puerto Rico, as well as to reach global communities beyond the island.