Pattern Energy execs confirm commitment to renewables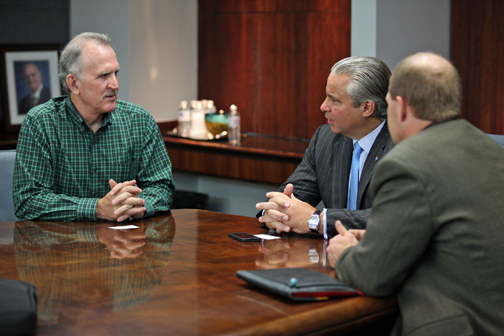 Top executives from Pattern Energy, owner and operator of the 101.2 mega-watt wind energy facility in Santa Isabel, met Monday with Economic Development and Commerce Secretary, Alberto Bacó, and other top Puerto Rico administration officials to reiterate its commitment to the island's renewable energy agenda.
"We were very encouraged by our meeting with Secretary Bacó. From the outset we knew that Finca de Viento would be a showcase for other projects to follow," said Mike Garland, Pattern Energy's chief executive officer. "We took on the responsibility, and with the help and support of many on the island, we delivered a world-class project that for the past four months has been delivering clean, renewable energy for Puerto Rico."
"We have the financial capability and the proven expertise to contribute more to Puerto Rico's energy diversification agenda," he said.
San Francisco-based Pattern Energy Group LP operates 44 windmills spread throughout 3,700 acres of land in Santa Isabel, of which about 20 acres are permanently impacted by the installation of the massive structures. Some 280 acres were temporarily disrupted during construction of the $250 million project, which company officials said have been "restored to the original condition… [and] agricultural activity continues to take place in the whole region exactly as before."
"We've employed nothing but the best local and international resources for the responsible development and long-term operation of Finca de Viento Isabel. We are methodical in our commitment to excellence in all we do, particularly in securing the input of the local community and delivering on it," said Collie Powell, senior developer for Pattern.
The company's top executives traveled to the island this week to host a township celebration to thank the people of Santa Isabel for their support of the 101.2 MW wind energy facility in the southern municipality.
Local farmers, community leaders, and Gov. Alejandro García Padilla administration officials were on hand Monday to offer remarks at Pattern's celebration, including Puerto Rico Electric Power Authority generation director Carlos Castro-Montalvo and Energy Affairs Administration Executive Director José Maeso.
"We need to diversify Puerto Rico's energy sources and promote the development of renewable technology for the benefit of our people, while at the same time fostering a culture of energy conservation," said Maeso during his remarks.
"Evidently, there's consensus in Puerto Rico about the importance and the benefits of continuing to develop renewable energy alternatives, and Pattern stands ready to continue to commit its resources and expertise to help Puerto Rico along in that effort," said Garland.
Helping the community
As part of its continued commitment to the Santa Isabel community, Garland announced a $500,000 Pattern donation to the Santa Isabel Medical Center. The funds will be used by the municipality to revamp its primary care facility, which today serves a growing 2,000 patients a month.
The contribution will be specifically used to expand the facility, acquire hospital beds and medical equipment, build a new X-ray, imaging and clinical laboratory, as well as improve the parking facilities.
"The use of the medical facility has increased considerably since last year, but still many citizens do not visit it because it lacks critical emergency services, such as X-ray imaging. We worked with Pattern for the past years trying to identify a key community need that they might contribute to, and we are pleased that they decided to support us in this project which will greatly benefit santaisabelinos," said Mayor Enrique Questell.