Pickleball: The sport that's quietly taking over courts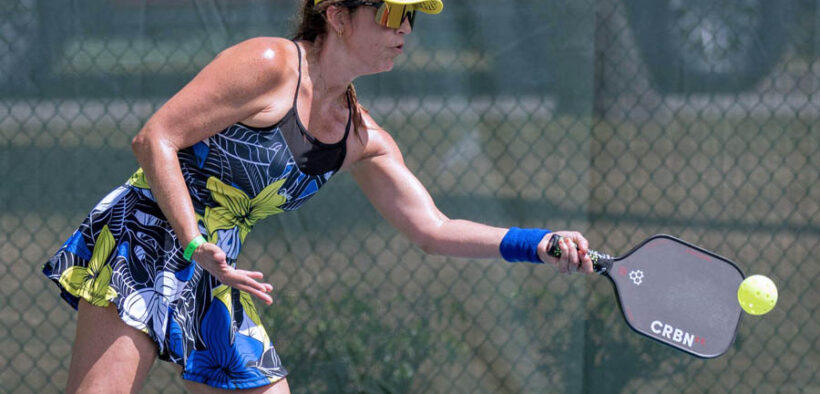 If you haven't yet played pickleball, you might be missing out on one of the most fun and accessible sports around. Pickleball is a hybrid of badminton, ping pong and tennis, played on a smaller court with a plastic ball and a paddle. It's easy to learn, fast-paced, and by many accounts, addictive.
Pickleball was invented in 1965 by three dads in Washington state who wanted to entertain their bored kids with a makeshift game. While the sport has been around for nearly six decades, it has dramatically grown in popularity since the pandemic and is currently the fastest growing sport in the U.S., including Puerto Rico.
According to the Sports & Fitness Industry Association, there are more than 4.8 million pickleball players nationwide, and it has grown 39.3% over the last two years. In 2022, pickleball became the official sport of Washington state.
Locally, it was first played in 2018 at the Caguas Country Club. In the same year, the Puerto Rico Pickleball Association, the national body that governs the sport on the island, was established to "help harness the development of the fastest-growing sport on the planet."
What makes pickleball so popular? Here are some reasons:
It's inclusive.
Anyone can play pickleball, regardless of age, gender or skill level. About 17% of players are 65 or older, while a third are under 25. You can play singles or doubles, indoors or outdoors, competitively or casually. Ask any pickler (self-proclaimed pickleball addict) and they'll tell you that it is also a social sport that fosters friendships and community.
You don't need much equipment or space to play pickleball. A paddle costs around $50, a ball costs around $2, and the net costs around $100. Granted, you can spend more on it if you choose to level up your game, as paddles for advanced players have a $200 to $250 price tag. Space-wise, you can set up a court in your driveway, backyard or local park. Some local communities have requested municipalities for help to turn unused public spaces into pickleball courts.
Pickleball is a fun way to stay fit and active. It improves cardiovascular health, strength, balance, coordination and mental well-being. An average player can burn around 300 calories per hour, and many players manage to squeeze in an average two hours of pickleball to their daily routines.
It's a game that combines strategy, skill and luck while challenging you to hit different shots, such as drives, lobs, dinks and volleys. It also keeps you on your toes with its unique scoring system and rules, such as the two-bounce rule and the non-volley zone. Most importantly, pickleball is a game that makes you smile and laugh..
If you're curious about pickleball and want to give it a try, it is highly likely that you'll find someone willing to teach you the game. But if you don't know anyone who is into it yet, finding a local club or court near you might help. The Puerto Rico Pickleball Association currently lists 25 clubs on its website, with the option to add unlisted clubs by filing an online form.
To many, pickleball has become more than a game — it has turned into a lifestyle. It is said that once you pick up a paddle, you'll never want to put it down.
Fertile ground for new brands
With about one local tournament per month, demand is high for paddles, balls, activewear and more. Let's not forget coaching, clinics and private indoor courts. While a great deal of this demand is being met by long-established businesses in the continental U.S., through e-commerce, local players are willing and eager to support local brands jumping on the pickleball frenzy.
Enter serial entrepreneur Alicia Santos, who started playing pickleball two years ago and quickly realized there was something missing: activewear that combines comfort, style and performance. At the time, she was elbow-deep in another business venture, but after falling in love with the game and not finding clothes that would meet her wants and needs, she decided to create a line of pickleball activewear.
"I knew that my next steps would be in the direction of combining pickleball and fashion, two of my passions. I felt it in my gut and in my heart. This creative pursuit was better aligned with my goals and my path, so I went for it," recalled Santos. "I wanted the collections to reflect our Latin culture, our colors and patterns, and I wanted it to be inclusive, as is pickleball, to embrace and celebrate the different shapes of Latino women."
With this concept, and equipped with a marketing and communications background, she swiftly pulled the pieces together to create Dinks, an activewear brand that caters to women of all sizes and ages who want to look and feel great on and off the court.
"The creative part — choosing the colors, the fabrics, the shapes, creating the patterns — has been fun, yet the manufacturing process has been more challenging than I initially thought it would be, mainly because I'm working with a manufacturer in Colombia because of the quality of their textiles. But when I get the finalized pieces and see them on a client — their look, how they feel, the excitement on their faces — that is quite rewarding. That moment makes it all worth it," she said.
While Dinks clothes were originally conceptualized for pickleball, happy customers started using them for the gym, beach tennis and other activities. Therefore, the collections have expanded to include dresses, skorts, leggings, shorts, bras and crop tops, all designed by Santos and made in Colombia. Each piece in Dinks' inventory comes in sizes from extra small to extra-large.
"Skorts, tops and visors have proven to be fan favorites, especially those in our variety of prints because they are fun and elegant to wear," said Santos. Another differentiator, she explained, is that customers look for two-to-three-piece sets, so she helps them put together the sets and style them according to the customer's body shape.
Off to the next tournament!