Popular Inc. desists from selling $500M loan portfolio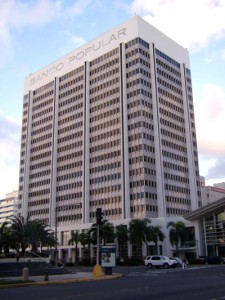 Four months after announcing its intention of selling some $500 million in non-performing construction and commercial real estate loans to a newly created joint venture with an unrelated third party, Popular Inc. said Thursday it has walked away from the deal.
The negotiations were ended after Popular Inc.'s main subsidiary, Banco Popular de Puerto Rico and the unnamed real estate investment and asset management firm were unable to reach an agreement on the final terms and conditions of the transaction.
"After careful consideration and a review of final terms and conditions proposed by the financial group, which differ in various key respects from those outlined in the letter of intent, we have decided not to proceed with this transaction," Popular Inc. CEO Richard Carrión said in a statement issued Thursday.
"Although we are disappointed that we were unable to complete the transaction as originally envisioned, we believe that this is the best decision for the corporation and its shareholders," he said. "We will continue to explore other opportunities to sell these assets in one or more transactions, as well as internal strategies to maximize our recoveries."
In January, Popular Inc. said 75 percent of the loans to be sold, were non-performing, a problem that has rocked the finances of a handful of local banks. The loans involved in the transaction are part of approximately $610 million worth of construction, commercial real estate and land loans that the bank reclassified as loans held-for-sale as of Dec. 31, 2010.
As per the initial agreement, the third party buyer would pay a purchase price equal to 47 percent of the loans' outstanding principal balance on record as of Dec. 31, 2010. In turn, Banco Popular de Puerto Rico would: make an equity investment equal to 24.9 percent; provide the financing needed equal to 50 percent of the purchase price and certain closing costs to assist in the acquisition of the loans; and, provide financing to cover unfunded commitments related to certain unmentioned construction projects. The bank would also have funded certain operating expenses of the venture.