Pres. Clinton in Puerto Rico for brief visit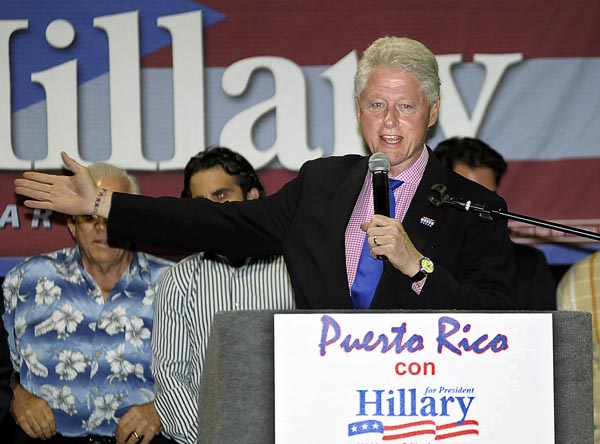 President Bill Clinton arrived to Puerto Rico Monday afternoon to begin a brief 24-hour visit that includes an agenda of private meetings with government officials and supporters, as well as delivering a speech on the importance of renewable energy during a forum today.
The former U.S. Commander-in-Chief's private jet landed at the Isla Grande Airport at around 6 p.m., according to published reports.
Today, Clinton will be whisked to La Fortaleza, for a meeting with Gov. Alejandro García-Padilla at 1 p.m. Immediately after, the President will head to a Renewable Energy Forum taking place at the Conservatory of Music in Miramar.
He will offer his perspective on the importance of advancing renewable energy initiatives and the potential for the island to be inserted into this movement, Chief of Staff Ingrid Vila-Biaggi said in a statement released Sunday.
"President Clinton's visit of and his support to the issue of environmental innovation, is a unique opportunity to highlight a priority for this administration: the development of sustainable initiatives and cost-effective power generation," said Vila-Biaggi.
The former U.S. President's presentation will be followed by a panel discussion on strategies and public policies that can be deployed on the island to reduce dependence on fossil fuels. In this panel, he will interact with economist Sergio Marxuach, public policy director of the Center for a New Economy, and Department of Natural and Environment Resources Secretary Carmen Guerrero.
On Monday, Resident Commissioner Pedro Pierluisi, said in a brief statement that he will meet with Clinton at noon — apparently before the event at La Fortaleza — during which he "take the opportunity to offer my view as to the best way to face the challenges we have in Puerto Rico."
"I'm sure Bill Clinton is the first who wants to see a safe Puerto Rico, where there is good quality of life, and we can count on his support," said Pierluisi, noting the private encounter will take place at a San Juan metropolitan area hotel.
Clinton will leave later this afternoon. It is unclear if he will participate in any private fundraising events while on the island.
Furthermore, no information was provided regarding how much Clinton will get paid for his participation at the forum, during which he will speak on behalf of the William J. Clinton Foundation.
According to stateside sources, Clinton reportedly takes in an average of $250,000 per speech.