Private colleges contribute to upward mobility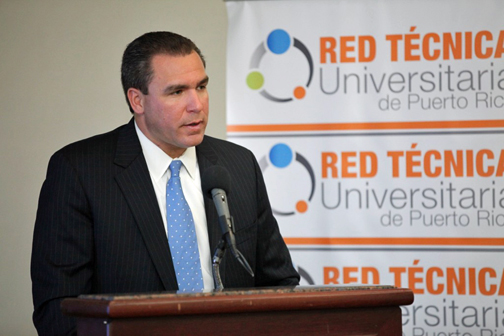 By Eva Laureano
For News is my Business
Private and post-secondary institutions represent an important economic and social mobility tool in Puerto Rico's economy, according to the findings of a study conducted by the Estudios Técnicos research firm.
The results also showed that each of the estimated 60,000 students enrolled in "for-profit, private post secondary schools" or IPSFLC's, is saving the government around $15,000.
The study titled "Contribution of for-profit post secondary institutions in the economic and social development of Puerto Rico" was unveiled at news conference in Hato Rey attended by heads of such schools.
Guillermo Nigaglioni, president of the University Technical Network, said the study is important because it shows the contribution of this sector in the creation of jobs.
"We also save the government money in a significant way every time a student registers in one of our institutions," he said.
The main findings of the study, presented by Luis Rodríguez-Báez of Estudios Técnicos, were that there are some 249,372 students registered at colleges in Puerto Rico and that 177,083 of them, or 71.8 percent, go to private institutions.
Another finding showed that there are 56 "for-profit, private post-secondary schools" for a total enrollment of 59,085, or an average of 1,055 students per school.
"This represents 24.9 percent of the 237,153 undergraduate students," he said.
The 56 IPSFLC's contribute $16.6 million to the local economy and save the government around $15,114 per student, the difference between the aid given to students in public entities and those in these schools, who receive around $350.
These schools have a high level of graduation, in the 150 percent range, when compared to public and non-profit private schools.
"Around 75 percent of the graduates of for-profit private, post-secondary schools get jobs since these schools help them do so, which means they help reduce unemployment," Rodríguez-Báez said.
The annual income of students enrolled in these schools is $9,600 compared to the average yearly income for Puerto Rico, which is $18,862, he said.
These schools offered courses in the fastest-growing professions, including alarm installers, cardiovascular technicians, respiratory technicians, physical therapy assistants, medical equipment repairmen, pre-school teachers, nurses, and mechanics.
However, as Puerto Rico's population ages, these schools have the opportunity to provide courses "to retrain" this population so that they can continue to be productive, said Rodríguez-Báez.
These schools, he said, should emphasize on helping students create their own jobs or businesses instead of expecting to obtain employment.
"That's where everything is moving," he said.