Puerto Rican couple leads Central Florida's food and business community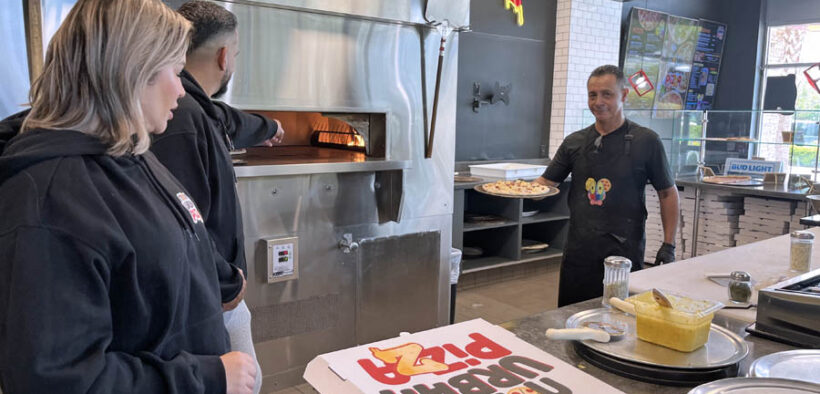 Orlando, Fla. – Dianne Santos and Hiram Turull, a dynamic Puerto Rican couple, have emerged as influential figures in the Central Florida food and business community. Their culinary enterprises have not only gained recognition but also made a significant mark on the local community, representing Puerto Rico proudly.
They have become an inspiration to many for their almost unstoppable way they have expanded the businesses they have run since 2017, with their first El Cilantrillo restaurant in Kissimmee, followed by two more locations: one on Semoran Boulevard, near the Orlando International Airport, another close to The Florida Mall, with another coming in 2024.
Since then, they have not stopped expanding, and embarked on new business ventures together such as Don Turull Cafe, Don Turull Cigars, Turull's Boquería Tapas Bar & Restaurant, Nona's Urban Pizza, and their recent brand-new project, Beaute Salon in Orlando.
Their most recent addition, Nona's Urban Pizza, opened this year with a $100,000 investment in the Lake Nona area.
Santos explained that they felt the desire to open a business in Lake Nona dedicated to families, envisioning it as a place where parents could take their children after school or sports practices, and for it to become that ideal spot for families.
Lake Nona's rapid growth and futuristic vision, characterized by global companies and medical facilities, provided the ideal backdrop for their family-focused concept. It is one of the areas with the highest population growth and is the fastest-growing city for entrepreneurs in the U.S., according to the LinkedIn State of Entrepreneurship Report 2021.
"We saw that Lake Nona was an area with many Latinos, and we wanted to bring them this family concept that characterizes us through our restaurants. We know that pizza is the dish that everyone likes, and we wanted to open a pizzeria with an urban, colorful, fun concept," said Dianne Santos, adding that "they even have their mascot, 'Nono,' and the tables have board games."
Nona's Urban Pizza offers diverse menu options, including New York and Neapolitan pizzas, as well as unique creations infused with Puerto Rican (Tripleta pizza), Dominican (Domi Pizza) and Venezuelan flavors (Chama Pizza), various pastas and desserts.
Meanwhile, El Cilantrillo specializes in Puerto Rican cuisine with generous family-style dishes. The couple's commitment to their customers and a sense of nostalgia for Puerto Rican flavors have contributed to their restaurants' success, attracting both locals and tourists in the Kissimmee area.
4th El Cilantrillo location
A significant upcoming project is the opening of another El Cilantrillo restaurant in Old Town Kissimmee, where it will occupy a spacious 7,300-square-foot location. This new location aims to cater to an even broader audience, including families, sports teams and special events.
"It will be the largest in the area, where we will serve 400 to 450 people inside and outside the premises," said Santos.
This new business venture was born in response to customer requests.
"People asked us for more space, so we thought about that, and El Cilantrillo has become the ideal space for the family, basketball teams, official visits, special events," she said.
Turull, 53, a businessman with a long history in banking in Puerto Rico and Florida, pointed out that the location will be in a popular area of Kissimmee.
"The difference is that it is a tourist area, and it will be a combination for tourists and locals that will have the best of both worlds. We will have a stage with … live entertainment; there will be a store with souvenirs from El Cilantrillo, Don Turull coffee, and cigars," he said.
The entrepreneur highlighted that the success of their restaurants lies in maintaining the flavor of their traditional foods, creating an atmosphere reminiscent of the island, and evoking nostalgia that makes patrons feel as if, for a moment, they are home again. This gastronomy is liked by tourists and foreigners who visit this area in Florida.
He represents Don Turull Cafe, a 100% Puerto Rican coffee, and Don Turull Cigars, a passion he shares with friends and customers.
Santos is the heart of the business and always greets everyone with a big smile and emphasizes that their decision-making is a collaborative effort with her husband, including their children, who are actively involved in the businesses. They have five children and five grandchildren.
Their latest business venture, Beaute Salon, is the product of Santos' entrepreneurial spirit, which was inspired by her travels in Europe. The salon offers hair care services, body massages, and an exclusive clothing line for Hispanic women.
Collectively, their Central Florida businesses employ more than 187 people, reflecting the couple's commitment to both business success and community impact.
The owners were recognized with the El Josco Award as the 2023 Small Business of the Year.
As the holiday season approaches, a busy time for businesses, making time for family is essential and non-negotiable for this couple.
"We set up a date ahead of the holidays and we celebrate together," said Santos.