Puerto Rico car sales up 9.5% in September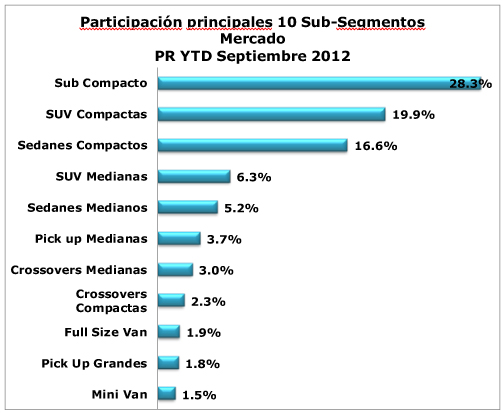 Puerto Rico consumers drove 8,300 cars off dealership lots in September, representing a 9.5 percent increase, or 718 additional units, in comparison to the same month last year, when 7,582 units were sold, the United Automobile Importers Group known as GUIA announced Tuesday.
From January to September, 72,781 motor vehicles were sold in Puerto Rico and the U.S. Virgin Islands, up 12.7 percent in comparison to the 64,578 units sold during the same period in 2011.
According to the trade group, 64.9 percent of consumer demand is concentrated in the sub-compact segment, compact SUVs and compact sedans, which are in the market's lower price range.
"We believe that due to the local economy and the current purchasing power of consumers, unlike other similar product markets such as the United States, we've note that nearly two-thirds of the industry's sales are in the compact segment, which that are less expensive in price," said GUIA President José Ordeix.
Meanwhile, the mid-sized SUV, sedan, pick-up trucks, and crossover segments make up 18.3 percent of the market. The seven segments mentioned make up 83.2 percent of Puerto Rico's demand.
"The reality in Puerto Rico is that excise taxes make vehicles more expensive, when compared with the price in other countries like the United States," Ordeix said. "This forces consumers to extend the vehicle's life, and results in higher monthly payments. As a result, the consumer opts for less expensive vehicles."
GUIA is an independent, nonprofit organization created in 2006 to address the auto industry's issues. Its members represent more than 96 percent of total new vehicle sales in Puerto Rico and the USVI.