Puerto Rico Ports Authority invests $517K to renew cargo vehicle fleet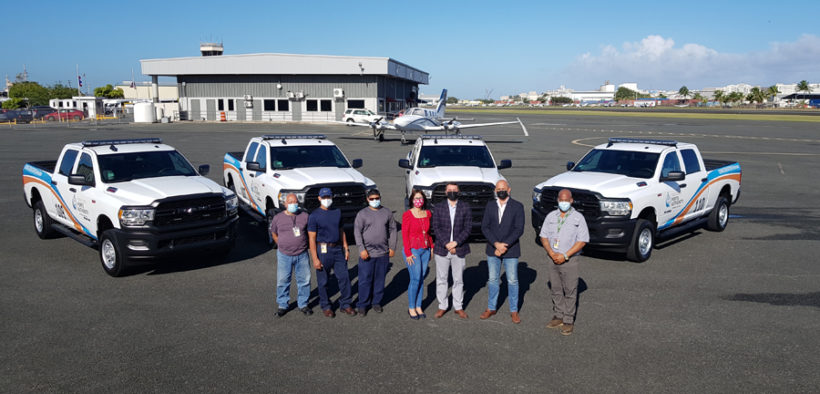 The Puerto Rico Ports Authority completed the renewal of its airport maintenance vehicle fleet, with the delivery of four new cargo units at its regional airports, Executive Director Joel Pizá confirmed.
The four units were assigned to the Conservation Division and represent the second group of vehicles that the Ports Authority bought to renew its vehicle fleet. They are included in a group of 17 new units bought with an investment of $517,043 in combined funds from the CARES Act Sharing Funds, and the agency's own funds.
"We're pleased to deliver these new units that we've acquired to update the vehicle fleet, which had been using vehicles for years that had already reached or exceeded their useful life and whose operation and/or repair constituted an incremental expense for the Authority. Without a doubt, this new fleet of vehicles will be of great use to our employees, while at the same time it will save money and time for the Authority on repairs," said Pizá.
Since 2002, the Ports Authority had not made a considerable investment in new vehicles, he said. The 13 units previously delivered were assigned to several of the agency's operational areas: Air Rescue; Airport Management; Maritime Management; Planning, Engineering and Construction Department; Internal Security and the Conservation Division.
The units delivered are Dodge Ram vehicles, 4×4, double cabin, 8 cylinders, 48" screen, 370HP, whose cost was $158,200. These vehicles will be integrated into the brigades of electricians, plumbers, welders, and system technicians (conveyors, boarding bridges, etc.) assigned to the Conservation/Aviation Division, an area that is responsible for preventive and corrective maintenance of the main infrastructure of the regional airports and the agency's headquarters.