Puerto Rico stands out in Foreign-Trade Zones Board report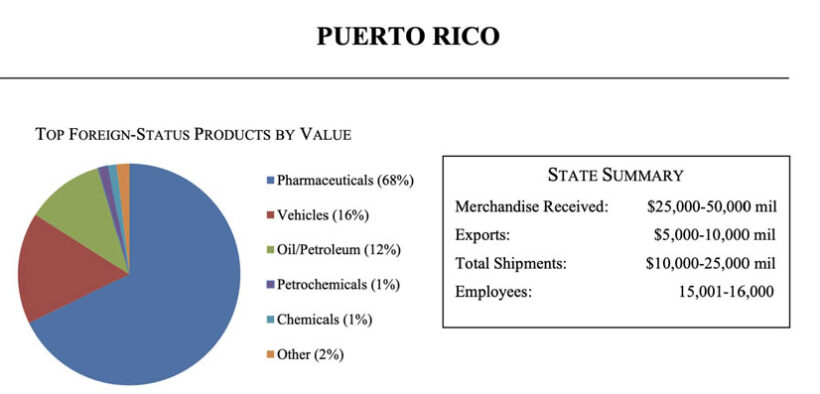 As has been the trend in prior years, Puerto Rico has distinguished itself among the top 25 U.S. states and jurisdictions in several categories of merchandise movement, both in the production and manufacturing sector and in the storage and distribution sector, according to the 84th Annual Report of the Foreign-Trade Zones Board to the U.S. Congress.
Foreign-trade zones are secure areas overseen by U.S. Customs and Border Protection, considered outside the U.S. customs territory for duty payment purposes. They are similar to international free trade zones and are located near U.S. customs ports of entry. They are regulated by the Foreign-Trade Zones (FTZ) Board, the executive secretariat of which is based in the U.S. Department of Commerce in Washington, D.C.
The board's report shows that in 2022, Puerto Rico ranked No. 10 in merchandise received, while in merchandise exported it ranked seventh.
In the storage and distribution sector, Puerto Rico was 13th in merchandise received and 10th in merchandise exported.
In production and manufacturing, Puerto Rico ranked 10th in merchandise received and fifth in merchandise exported.
Puerto Rico has three zone concessionaires: Industrial Development Co. (FTZ 7), Department of Economic Development and Commerce (DDEC, in Spanish) / Trade and Export Program (CCE, in Spanish) (FTZ 61), and Ponce Free-Trade Zone Development Corp. (Codezol, in Spanish) (FTZ 163).
In storage and distribution by specific zone, Puerto Rico ranked 24th, due to the activity of FTZ 61 (DDEC), according to the report.
The FTZ program provides benefits for companies, such as exemption from paying taxes and excise taxes on foreign merchandise admitted into the zone. The merchandise can be exported or transported from one FTZ to another or sub-zone without paying tariffs or taxes.
Tariffs and taxes are paid only when the merchandise is introduced to the island. Companies have the option to pay the lowest applicable rate for either the components or the finished product; tariffs are not charged for the added value attributed to manufacturing and assembly processes in the area.
"This report highlights the vitality and potential of Puerto Rico's free zones, including those managed by the Puerto Rico Industrial Development Co. (Pridco). Despite being a smaller jurisdiction than the rest of the states, Puerto Rico demonstrates exceptional competitive capacity," said PRIDCO Deputy Executive Director Carlos Ríos-Pierluisi.
"Free zones benefit entrepreneurs by offering favorable conditions for their operations and positioning Puerto Rico as a key player in commerce and manufacturing at the national level," he added.