Puerto Rico's economic woes 'hollowed out' middle class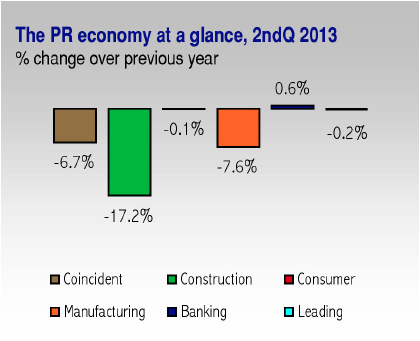 The economic transition that Puerto Rico has been going through for the past seven years has been "extremely painful" for many, as "employment trends have polarized the workforce and hollowed out the middle class," according to the most recent edition of "Compass," a publication by Heidie Calero Consulting Group.
The firm based its analysis on year-over-year changes in key economic indices: coincident, manufacturing, construction, banking, consumer, and leading.
Manufacturing reflected a -7.6 percent growth, while construction showed a significant -17.2 percent drop — both barely holding on, while consumer confidence is weak as rising gasoline, electricity, and water prices pull future spending to lower levels.
The only bright point in this dim scenario is the banking sector, which while not back to pre-recession levels, has shown recent positive gains that is still only 0.6 percent, the economic analysis firm offered in its study.
"Five out of the six economic indices fell during the second quarter of 2013. Increasingly, there are more signs of a double dip recession. Construction showed a big decrease of 17.2 percent, driven by declines in construction jobs and cement sales. The consumption index fell 0.1 percent. The coincident index continues to depict negative results at -6.7 percent," the analysis concluded.
Overall, the second quarter is still "a bag of lackluster indices of economic activity without a solid indication that government will manage to improve its fiscal performance and still manage to grow the Puerto Rican economy."
The current results sharply contrast those of the same quarter in 2004, when the economy was performing positively. Back then, all six quarterly indices were positive and the economy grew 2.7 percent — all of which are now negative.
"Some analysts indicate we are already in a double dip recession and others conclude the recession turned into a depression from which we have not yet recovered," the report said.
Index components take beating
Puerto Rico's coincident index, which helps economists measure current conditions, depicted a 3.1 percent decline in employment followed by deeper fall of 9.5 percent in payroll, compared with the same quarter in 2012.
Tourist registrations fell 0.9 percent, and cement sales posted a reduction of 20.2 percent, which fueled the sector's downward spiral, the consulting group said.
"The construction index posted its deepest fall in more than 11 quarters. This sector was struggling for recovery since the index showed good results at the beginning of 2012 but it fell again 17.2 percent this quarter. All components of the construction index are far from their prerecession levels," the firm concluded, adding that housing permits, jobs, and cement sales fell 13 percent, 49 percent, and 37 percent respectively, when compared to their 2004 levels.
However, the analysis pointed to a number of recent announcements that may boost the sector in coming months: Bristol-Myers' $200 million expansion in Humacao; the San Juan Marriott's $8 million remodeling; the $405 million The Mall of San Juan construction; the $100 million expansion of the Plaza Las Américas mall; and $1.9 billion in public projects.
Consumers will pay more
During the second quarter that ended in June, Puerto Rico's consumption index experienced a 0.1 percent decline. Car sales barely grew 0.6 percent, while restaurants and residential electricity consumption fell 2.5 percent and 3.1 percent, respectively, the study showed.
"Households are struggling with high unemployment and the expected increase in prices resulting from $1.5 billion in new taxes (mostly corporate taxes) enacted with the 2014 budget. Gasoline prices have increased more than 10 cents per liter since the new petroleum tax [went into effect.] Water and sewer services have also increased, and Internet purchases will pay the sales tax," the study showed. "On the positive side, gasoline and department store sales grew 4.8 percent and 4.9 percent, respectively.
Saying that with 32,500 fewer jobs available in comparison to last year, pessimism is high. However, private-sector participation, a steady U.S. economic recovery, easing of local credit conditions, and refocusing on increasing agricultural production will help revive the local economy