Reactions abound over govt's Title III restructuring filing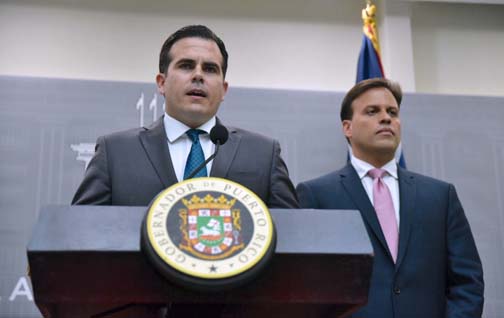 Gov. Ricardo Rosselló's petition to seek protection under Title III of the Puerto Rico Oversight, Management and Economic Stability Act to ensure essential services to the public, the payment of the government payroll and suppliers, and restructuring the public debt, opened the floodgates to reactions from several sectors Wednesday.
Local and stateside creditors and credit ratings agencies did not reach a true consensus over the government's decision and future effect of seeking the bankruptcy-like protection under Title III of PROMESA on Wednesday to restructure some $70 billion in debt.
The filing
After extensive discussions in good faith and the opening of the financial books of the government of Puerto Rico to the creditors, there has not been sufficient progress in the negotiations, so that Title III of the PROMESA Act allows for a special court to restructure the public debt of Puerto Rico, Rosselló said.
"We remain committed to maintaining negotiations in good faith to reach agreements with creditors. The best example that shows we can have dialogue is the Restructuring Support Agreement (RSA) recently established with the creditors of the Puerto Rico Electric Power Authority (PREPA). However, given the deficit that we have inherited, it is my responsibility to guarantee the best interests of the Puerto Rican people," said Rosselló.'
The governor said his administration seeks to fulfill debt payments to the creditors of nearly $800 million per year, as it is contemplated in the Fiscal Plan certified by the Fiscal Oversight Board on March 13, 2017.
This represents an 80 percent cut in the payment of the service of the debt originally agreed with the creditors by past administrations.
"While the government remains willing to continue to pursue good-faith dialogue and negotiations with its creditors, the recent expiration of the PROMESA stay imposed against enforcement of creditor liability claims dictates that the best course of action is for the Government to enter into Title III for the purpose of adjusting its debts to a sustainable level consistent with the Fiscal Plan," the governor said.
Rosselló said there are other entities under the supervision of the Puerto Rico Fiscal Agency and Financial Advisory Authority (AAFAF) that may be seeking a consensual restructuring agreement under Title VI of the PROMESA Law.
Oversight Board backs decision
In a statement, the Oversight Board approved and certified the filing in the U.S. District Court for the District of Puerto Rico, but Chairman José Carrión said "it should not preclude efforts to continue voluntary debt restructuring negotiations and seek consensual agreements with creditors."
"The Oversight Board continues to believe that consensual negotiations are preferable to the extent possible and will pursue them with all creditor groups willing to do so. These filings do not bring an end to those discussions," said Carrión.
Carrión further noted how the government's certified Fiscal Plan, in addition to structural reforms aimed at increasing labor force participation and fostering economic growth, already contains substantial expenditure cuts and revenue increases in an effort to structurally balance the budget and maximize funds available for debt service.
But the government's liquidity and solvency problems are massive and Title III has now become necessary to protect the people of Puerto Rico and avoid further negative impact on the economy from a flurry of litigation and continued uncertainty, he said.
Creditors weigh in
The government's decision, and the Oversight Board's support of the voluntary petition under Title III of PROMESA to protect the residents of Puerto Rico, as well as the interests of its creditors, in view of the expiration Monday night of the stay against litigation provided under PROMESA, drew mixed reactions from creditors.
"Over the past several days, the General Obligations [GO] bondholder group and the Commonwealth have been negotiating a consensual deal," said Andrew Rosenberg of Paul, Weiss, Rifkind, Wharton and Garrison, an advisor to the Ad Hoc Group of Puerto Rico GO Bondholders
"Yesterday, just as a deal was within reach, we understand that the Oversight Board intervened to block it, and the governor acquiesced to the Board," he said.
"For months, the Oversight Board has made every effort to sabotage consensual negotiations, to flout the requirements of PROMESA and Puerto Rico's constitution, and to force Puerto Rico into bankruptcy," Rosenberg said.
"With that bankruptcy now started, the governor has forfeited all power over the restructuring, and the economy of Puerto Rico will be put on hold for years. Make no mistake: The Board has chosen to turn Puerto Rico into the next Argentina," he warned.
Meanwhile, representatives from Bonistas del Patio, which represent Puerto Rico bondholders, said this group will be at "a greater disadvantage" in a restructuring process under Title III. They feel they will have the "least representation" in the negotiations.
"The petition for Title III made today … is a result that could have been avoided if the Fiscal Board had not choked negotiations by allocating a dismally inadequate amount of $787 million towards debt service and not respecting the lawful hierarchy of each credit," said Rafael Rojo, chairman of the group.
"By doing this, the Fiscal Board provoked the sprint of lawsuits we are seeing against the local government and thus, making Title III inevitable," he added.
"This route is highly disadvantageous for the local bondholders who are most vulnerable and can only be cured by providing a solution that brings justice to locals and mitigates the severe losses and impact that thousands of locals who trusted their entire savings in bonds issued by the government of Puerto Rico," Rojo said.
"Finding a just settlement for local bondholders was a promise made by the governor and the presidents of Senate and House of Puerto Rico's legislature, we feel confident that they will honor their promises," Rojo added.
Credit agencies make predictions
S&P Global Ratings today said that a filing creating bankruptcy-like protections from creditors' lawsuits, will likely have little effect on its tax-backed ratings on the commonwealth.
All of its Puerto Rico tax-backed ratings are either 'D' (default), or 'CC' with a negative outlook, anticipating a default as a near certainty. Puerto Rico's current financial plans project only partial payment on debt that is not yet in default.
As a result, S&P Global Ratings sees no rating impact on tax-backed ratings from a potential Title III filing, while creditor recovery rates probably will become even more uncertain.
"We believe principal recovery rates would have remained uncertain either within or outside of Title III. Different classes of creditors have filed many lawsuits, and it is unclear how these conflicting claims would have been adjudicated outside of Title III under separate court rulings, although creditors might have had a stronger legal position to collect on the limited revenue, practically speaking, that would have been available for repayment," the agency said in a statement.
For creditors, Title III could have the advantage of a potentially global solution that might arrive more quickly and with lower legal costs, but it also strengthens Puerto Rico's protection against legal claims.
"It is not clear how a bankruptcy court will view the relative strength of one creditor class against another, although it might give deference to PROMESA board-approved financial plans. Some creditors, such as the Puerto Rico Highways and Transportation Authority (HTA), that are currently being offered very little by the commonwealth in terms of recovery, might consider themselves as having not much to lose in a Title III filing," S&P said.
Currently, it rates Puerto Rico's GO debt 'D,' along with its general fund appropriation secured bonds, except those that have remained current because of drawdowns in debt service reserve funds.
S&P expects appropriation-secured debt, such as that of the Employees Retirement System, to likely default on July 1, 2017, when reserve funds are exhausted. Puerto Rico's sales tax-secured debt issued by the Puerto Rico Sales Tax Financing Corp. (COFINA) has remained current on debt payments, due to sales taxes remitted to the trustee in calendar 2017 that were fully sufficient to make the upcoming Aug. 1 debt service payment.
However, under Puerto Rico's current financial plan, the commonwealth will not be making pledged sales tax payments to the trustee when required set-asides begin again on July 1, which will likely lead to a default on COFINA debt service coming due after Aug. 1.
"While theoretically HTA debt has adequate debt service coverage on a gross basis from pledged revenue, Puerto Rico has not been transferring debt service for HTA to the bond trustee and payment has been made from debt service reserves, which are likely to be insufficient to make the upcoming July 1 debt service payment," S&P said.
Meanwhile, Ted Hampton, vice president of Moody's Investors Service, said the government's decision "marks a positive step for bondholders overall."
"Although a court proceeding will take considerable time and likely involve losses for all Puerto Rico bondholders, it will be an orderly process that should be better for creditors in the aggregate than a chaotic and uncertain period involving proliferating lawsuits among holders of the commonwealth's numerous debt types," Hampton added.