Renovation of San Juan's Barbosa Park begins with $10.6M investment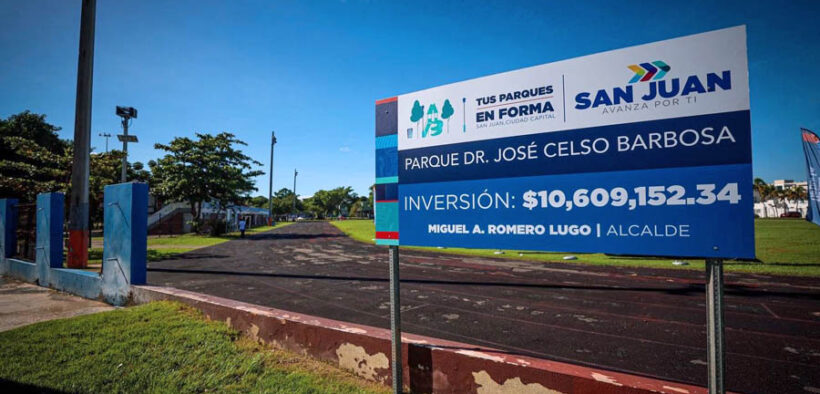 As part of the efforts by the San Juan municipal administration to reestablish the city as the "Capital of Sports," Mayor Miguel Romero-Lugo announced the start of a $10.6 million renovation of the historic Barbosa Park in Ocean Park.
"The iconic park is one of the most visited and used by residents and tourists in San Juan," Romero-Lugo said at a news conference. "Its unique location so close to Ocean Park beach and its various areas for practicing various sports have made this place one of the most important in the capital city. However, the park has been deteriorating for years due to a lack of maintenance, followed by the direct impact of swells, strong winds, rains and the onslaught of several hurricanes like Irma, Maria and subsequent phenomena."
The park will undergo a two-phase restoration. According to Romero-Lugo, the municipality has invested about $7 million for the project, with the remaining funds coming from the Federal Emergency Management Agency (FEMA), $2.4 million, and nearly $1.2 million from insurance claims after the 2017 hurricanes.
The first phase, costing $6.2 million, includes improvements to the track, administrative buildings, police headquarters, the Dr. José Celso Barbosa Plaza and parking area. It is expected to be completed within a year.
With a nearly $4.4 million budget and a 15-month timeline, the second phase will focus on the baseball, basketball, tennis, volleyball and skating facilities, as well as a children's play area. Also to be addressed are the walking trails, benches, tables, parking, and the tennis court administration office.
The mayor also announced that pets will benefit from the project as well.
"As part of the improvements to Barbosa Park and our commitment to addressing the needs of our pet-owning residents, we will be developing a dog park area," he said. "Pets are a part of every family, and given the large number of park visitors with their pets, we have decided to add a dedicated area."
The pet park's investment of $29,379 will include the installation of waste stations, benches, play stations and a security gate.
"The announced improvements will benefit not only the Ocean Park community but also residents of Lloréns Torres, Loíza Street, San Juan Moderno, Villa Palmeras, Chícharo, Seboruco, Pulguero, Playita, Punta Las Marías, as well as all the communities of San Juan and citizens of Puerto Rico," Romero-Lugo added.
The project joins the multimillion-dollar improvements already underway at San Juan's Central Park, which were announced on June 11.