P.R. needs laws to restructure public debt, investor says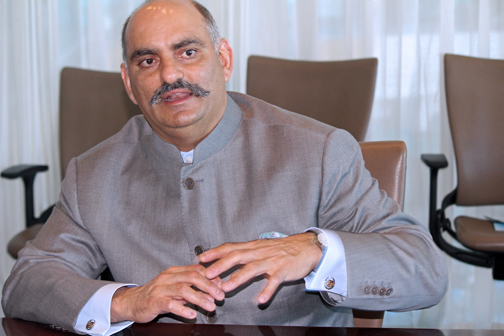 Hedge fund manager Mohnish Prabai, who last year established an investment firm in Old San Juan, said Thursday Puerto Rico will find a "huge competitive advantage" in having the necessary legal tools to be able to restructure public debt.
With an applicable bankruptcy law, the island will "have an ability to restructure its obligations and get going again," said Prabai, principal managing partner of Pabrai Investment Funds and head of Dhandho Holdings in San Juan.
During an aside with members of the media prior to his keynote address to participants of the Puerto Rico Investment Summit, Pabrai spoke well of the administration's albeit failed bid to approve a local restructuring law, which was subsequently invalidated in court after being contested by bondholders.
The law would have allowed the government to restructure the fiscal problems had by public corporations, to offset it's burgeoning $73 billion public debt.
"One of the great advantages the U.S. has over almost the entire world is a very well developed bankruptcy court. It's a huge competitive advantage," he said. "In San Juan, we have a situation where some of those rules and laws cannot be applied to public debt. The legislature tried to find a solution and then a judge invalidated it. That judge, whether right or wrong, did not do the right thing."
As he spoke, hearings were taking place in Congress to determine whether Puerto Rico should be allowed to find shelter under the U.S. Treasury's Chapter 9 bankruptcy rules, which enable governments to reorganize in a supervised manner.
"The restructuring process is a huge advantage in the U.S., but there is no such structure for Puerto Rico on the public debt side, so it's a concern. It's good that there's an initiative in place because it's very important to try to get things back on track," he said. Dhandho Holdings raised $150 million a year ago and has already purchased Stonetrust Insurance in Louisiana. The firm also deposited $90 million in Puerto Rico banks, all while taking advantage of the tax breaks the government is offering through Acts 20/22.
"I think my business is going to grow quite a bit, and all that growth will take place here. The $90 million that is in the bank was not raised to sit in the bank. It's going to get invested, we don't exactly know how yet, but that will lead to more opportunities, earnings, cash flows and employment," said Pabrai, who was born in India but is a naturalized U.S. citizen who has been residing on the mainland for 32 years.
Core strengths, major setbacks
Puerto Rico, he said, has some "very core strengths" that may not be understood and played out enough to break down stereotypes that may be affecting perceptions about the island.
"For example, you have the Mayagüez campus of the University of Puerto Rico, which is an incredible asset," he said. "The Mayagüez campus has arbitrage. I'm an investor. I love arbitrage because it means risk-free returns. Anytime you give me arbitrage of any kind, it's good. Mayagüez is a great arbitrage."
Still, he acknowledged that the Mayagüez campus is producing excellent human capital that quickly leaves the island in pursuit of better job and life opportunities elsewhere.
"For any place, the top 1 percent of talent drives everything, and one of the biggest problems Puerto Rico faces is that most of the top 1 percent leaves every year and we have to stop that," he said. "It's very important to get to the point where it is unattractive for the very best people to leave the island."
Another problem he has already identified as he has gotten to know Puerto Rico is what he described as the "broken education system."
"The biggest asset is the people, and what has to happen, is that public school education has to be exceptional," he said. "We find that there are very bright and good people but they are very few in number, because the education system does not do justice to the talent on the island and gets them to a level that is world-class."
That said, Prabai vowed that his firm will eventually begin working on social initiatives in partnership with the government focusing on education, probably at the high school level and younger.
"The problem of a broken education leads to other problems — crime, homelessness and other issues, so we have to invest massive resources," he said.
Pabrai is also known as a philanthropist with one of the best track records in asset management over the past 15 years. His hedge fund, Pabrai Investments, was founded in 1999 with $1 million in assets under management and presently manages $700 million in the United States of America, India, China and South Korea.
The entrepreneur is aiming at Puerto Rico as a window into new investments, which could eventually include real estate properties, he said.