Retailers lobby for security network in wake of crime wave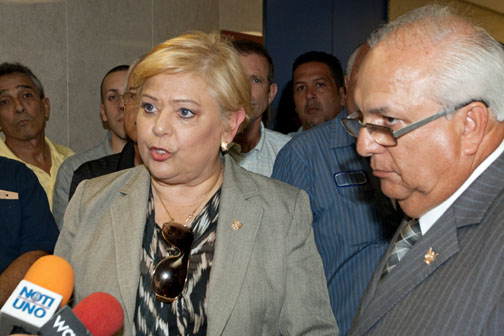 United Retailers Association President Enid Monge urged for the creation of a security network for businesses in the wake of the crime wave that has directly affected the sector, which escalated this month.
Monge said Tuesday she would request a meeting with Police Superintendent Héctor Pesquera and mayors to outline a course of action to inform retailers on security measures.
"The meeting with the Superintendent and the mayors is urgent to help the retail sector to implement measures to make their businesses and homes less prone to attacks, because as we've seen in the press, violence is not limited to business locations. Criminals prey on retailers and ambush them in their homes," Monge said, referring to a string of recent cases in which small business owners fell victims of hold-ups and other crimes.
Six retailers have been murdered in May, while another was kidnapped and held hostage with his family at home. No casualties were reported related to that violent incident.
She proposed connecting the trade group — known as CUD for its initials in Spanish — with the Association and Federation of Mayors and state and local police to create a safety network in retail areas presenting higher risk. This effort includes retailer participation through so-called security co-ops, through which they pay to install surveillance cameras and start preventive security rounds.
This is not the first time the CUD turns to the police for help to deal with criminal violence facing the retail sector, she said. The trade group had previously organized a gathering of retailers from different parts of the island for orientation activities, including security workshops by Puerto Rico law enforcement representatives.
"Many retailers are potential targets of armed robberies and carjacking because their businesses are open extended hours and because assailants presume they have large amounts of cash. Though Police data shows that overall crime has declined compared to last year, we're concerned about the increase in armed robberies that retailers have faced," said Monge.