FEMA OKs $2.8M for Salinas aquifer mitigation project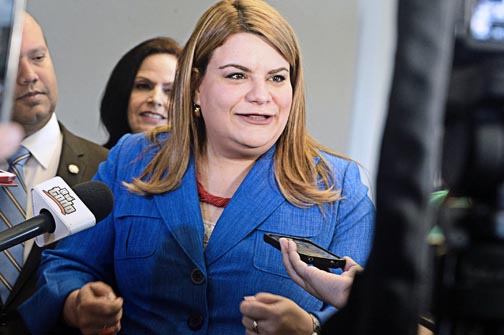 The Federal Emergency Management Agency has approved a $2.8 million hazard mitigation project for the island's southern coastal area, which considers its adaptive capacity, and uses surface and ground water to reduce the need for future water rationing in the town of Salinas.
Puerto Rico Resident Commissioner Jenniffer González and Alejandro De La Campa, director of FEMA's Caribbean Area Division, made the announcement Monday.
Funded under FEMA's Pre-Disaster Mitigation program, the mitigation strategies will reduce risks to life and property from future events, while lessening dependence on federal funds in future disasters. The total cost for the project is more than $2.8 million with a federal share of more than $2.1 million.
"Once completed, this project improves the quality of life throughout the communities in Salinas, while making them safer and stronger for the next weather event, including a drought," said De La Campa.
"Since 2003, more than $9.3 million in FEMA Pre-Disaster Mitigation funds were obligated to enhance the resilience of our communities, ensuring that we are all better prepared for future emergency situations," he said.
The Puerto Rico southern coastal aquifer in Salinas has experienced prolonged low water levels due to drought events, which, along with a heavy water demand, resulted in a decline of groundwater levels.
When water level decreases, the intrusion of salt water causes water quality in the aquifer to deteriorate due to contamination by nitrates and dissolved solids, according to U.S. Geological Survey data.
"Everybody remembers the drought of 2015; Salinas endured extreme drought. These funds help to mitigate events such as that," said González.
"The federal government, through FEMA in Puerto Rico, is always present in times of disaster and mitigating emergency damages. I appreciate the collaborative support that Alejandro De La Campa and the FEMA personnel maintain with our office, the government and today, listening to the island's needs," she said.
The drought in Salinas prompted an emergency condition declaration from the Puerto Rico Department of Natural and Environmental Resources and affected the Puerto Rico Aqueduct and Sewer Authority, which had to reduce its water intake. This aquifer supplies water to more than 30,000 town residents and to the Camp Santiago National Guard base.
To compensate for the lack of irrigation deliveries that used to recharge the aquifer, the project will use water from the neighboring Patillas Dam. The storage capacity of this dam has declined in recent years, resulting in spillage of useable surface water. Using this surface and ground water takes full advantage of available resources, benefitting all users.
An artificial recharge through an open water irrigation channel can support pre-drought rates of water withdrawal, reducing the need for future water rationing in Salinas.