Speaking in D.C., Villamil offers bleak economic forecast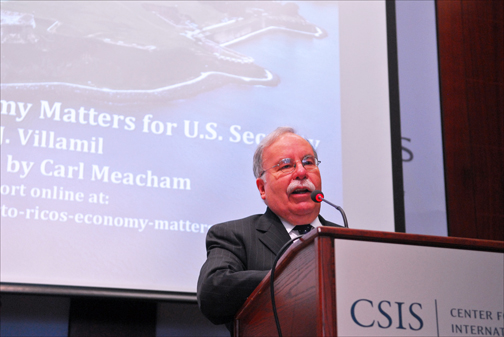 By Larry Luxner
Special to News is my Business
WASHINGTON — José J. Villamil, one of Puerto Rico's leading economists, offered a grim assessment of the island's fiscal health during a lecture Tuesday at Washington's Center for Strategic & International Studies.
About 50 government officials, business executives, lobbyists and others braved frigid winds and single-digit temperatures to attend the CSIS event, at which Villamil explained why Puerto Rico seems frozen in a perpetual recession.
"The island is now a much smaller economy than it was as recently as six or seven years ago," said Villamil, president and CEO of San Juan-based Estudios Técnicos Inc. "Puerto Rico has experienced a substantial contraction, and prospects for the next two or three years don't look much better. Investment in Puerto Rico has gone down from 30 percent to 13 percent of GNP, and there's been a loss of 200,000 jobs. The economy has lost its capacity to generate growth."
Villamil's presentation coincided with publication of his 12-page report, "Why Puerto Rico's Economy Matters for U.S. Security," by CSIS, with a foreword by Carl Meacham, director of the think tank's Americas program.
In it, Villamil predicts Puerto Rico's economy will shrink by 1.0 percent in fiscal 2014, and decline by another 0.8 percent in fiscal 2015. That's in line with estimates released by the Puerto Rico Planning Board, but more optimistic than the Economist Intelligence Unit's warning that the island's economy will contract by 2.5 percent in fiscal 2014.
Underlying Villamil's forecast is his expectation that government expenditures will fall by 1.9 percent in FY 2014 and 1.3 percent in FY 2015. Investment in construction, meanwhile, will decline 0.7 percent in FY 2014 and rise by 0.8 percent in FY 2015, while personal consumption will rise by 1.4 percent and 1.5 percent, respectively. Finally, gross domestic investment is expected to rise by 1.6 percent each year, due primarily to investment in equipment and inventory accumulation.
"When economists look at recessions, they typically think of short-term ups and downs. What's happened in Puerto Rico is not a recession in that sense, but the accumulated effects of long-term unemployment and fiscal inefficiency. This is the situation we find ourselves in," he said. "This year, the public debt to GDP ratio was 103 percent, an unsustainable number. At this stage, Puerto Rico cannot return to stimulating its economy through debt."
Sharp contrast
Villamil compared today's dismal outlook to the 1940s and 1950s, when Puerto Rico enjoyed a sustained economic boom — with growth rates hovering around 7 percent a year. Fueled by federal tax breaks that encouraged massive investment in factories, the island enjoyed privileged access to the U.S. market, exemption from federal minimum-wage laws and little competition from developing countries.
But things began changing in the mid-1960s — with the application of federal minimum-wage legislation to Puerto Rico — pushing up labor costs. Then the Arab oil embargo of 1973-74 hit the island hard, crippling its budding petrochemical industry.
Section 936 of the U.S. Internal Revenue Code, which allowed U.S. firms operating on the island to avoid paying federal taxes when repatriating profits back to the mainland, sparked a boom in pharmaceuticals. But that phase of Puerto Rico's economy ended in 1996, when the Clinton administration abolished that tax loophole following complaints from Congress.
"Treasury was under the impression that Section 936 firms were not generating sufficient jobs to justify the tax cost to the U.S. Treasury, and they assumed that if 936 was eliminated, fiscal income would increase. But that didn't happen," he said. "Most of these firms became CFCs, or controlled foreign corporations."
The tragedy, Villamil argued, is that Puerto Rico's leaders made only half-hearted efforts to develop a local industrial base and prepare the island for a post-936 economy. In addition, the huge volume of 936 deposits also meant that liquidity was high, keeping Puerto Rican interest rates low — and contributing to a real-estate bubble, which burst in the early 2000s.
"The liquidity that 936 funds generated may have also led local banks to engage in practices that proved unsustainable once these funds disappeared — and that brought about the FDIC-assisted sale of three of the island's banks," according to the report. "In short, doing away with Section 936, whatever the successes of the policy, contributed to the development of the economic instability and grinding recession still seen in Puerto Rico, leaving the island with many pressing challenges."
Today, federal transfer payments to individuals living in Puerto Rico amount to 22 percent of personal income, up from 6 percent in the early 1970s. And the government itself has a consolidated budget of nearly 50 percent of Puerto Rico's GNP, while employing one out of every four Puerto Ricans. The outlook is especially dismal in the context of Puerto Rico's falling population.
Dysfunctional political system
"I think the political system in Puerto Rico is dysfunctional," he said. "As the economy stopped growing, the road to riches was through the political system, so you had a very privileged political class — not only in the legislature and the executive branches, but also in the municipalities."
He added: "Puerto Rico has a complex, cumbersome, oppressive tax system, and the government has 145 agencies and an institutional framework, which does not support flexibility. This has created a policy paralysis. We must urgently restructure Puerto Rico's institutional framework so that it permits more agility, adjusting to global trends."
Assuming a growth rate of 1.75 percent beginning this year, he predicted, the island would only recover its 2006 per-capita GNP of around $7,500 by 2021.
Villamil told his audience that these days, the ratings agencies are worried about two things in particular: government liquidity and prospects for economic growth. While praising Gov. Alejandro García-Padilla for pushing legislation that has kept the employment situation from worsening, reforming the pension system and pushing through new taxes, there's only so much the Commonwealth can do.
"The two main concerns of the ratings agencies are government liquidity and prospects for economic growth. It looks as if the budget deficit will be kept below $1 billion this year. If they do that, then downgrading will be postponed," he said. "The other concern they have is jump-starting the economy. There I think we have a long way to go. The government has not yet come up with an overall strategy for doing that."