New EDB product to support community pharmacies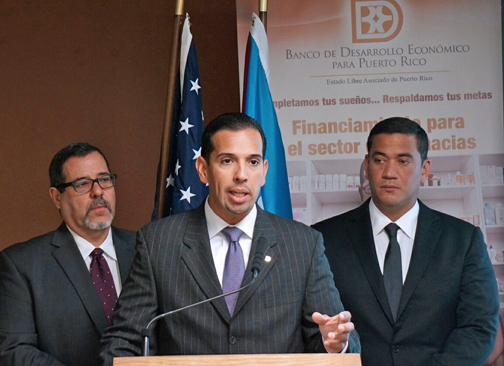 The Economic Development Bank on Thursday announced a partnership with the Puerto Rico Community Pharmacies Association to launch a new product to help promote the sector's growth through financing new and existing operations.
During a morning news conference, EDB President Joey Cancel-Planas said the agency has $10 million available to grant credit lines to eligible business owners as well as up-and-coming entrepreneurs, particularly recently graduated pharmacy professionals.
"In the EDB, we're known for finding solutions and innovative products for our customers. As part of an initiative to promote and assist the development of community pharmacies, the EDB has designed a new financing product targeted exclusively toward this important industry in our economy," Cancel-Planas said. "With this new offering, we expect to significantly impact this sector, which comprises some 750 community pharmacies."
The product that has two funding approaches: the acquisition or establishment of a pharmacy and expansion or financing of the inventory cycle. In both cases, licensed pharmacists who wish to establish their first drugstore, as well as pharmacy owners, are eligible.
According to data provided by Droguería Betances, the main supplier of pharmaceutical drugs on the island, the community pharmacies market has grown from 49 percent in 2008 to 56 percent in 2013 over major drugstore chains and have a sales volume of more than $1 billion annually.
Currently, there are about 750 community pharmacies in Puerto Rico, versus 172 chain pharmacies. Although these numbers are encouraging, the sector still faces big challenges, among these: the expansion of foreign chains, loss of sales volume of brand-name drugs to generics, and a decrease in reimbursements from medical plans, said Raúl Rodríguez-Font, president of Droguería Betances.
"Given the challenges facing this market, we have seen how they have been forced to redefine pharmacies, increasing consumer offerings, enlarging the area of consumption, and strengthening the appearance of the facilities, among other things," Rodríguez-Font said. "Undoubtedly, the EDB's support comes just in time to help the sector to expand services and meet these challenges."
As an example, Rodríguez-Font said opening an average drugstore carries an expense of between $150,000 and $200,000 just to cover the pharmaceutical product inventory. Infrastructure, consumer areas and other elements associated with opening a business add to that tally, he said.
With the EDB's program, community pharmacies will have access to a new funding source, other than conventional banking, said Elliot Pacheco, president of the Community Pharmacies Association.
"Although we have seen an increase in our market share, the reality is that this increase has been mainly in the Medicare population and Mi Salud [the government's health plan]. Community pharmacies give service to more than 80 percent of these patients," he said.
Meanwhile, Cancel-Planas explained that loans granted to buy or establish a must be used for working capital, purchase of equipment and property improvements, among others. The requirements are: A contribution of 10 percent of the total project cost with interest at 2 percent above the prime rate, with a minimum rate of 6.50 percent, 0.50 percent discount on the applicable commitment fee and 0.25 percent discount on the applicable handling charge. For pharmacy owners, the contribution must be 15 percent of the total project cost.
Meanwhile, funding for expansion or inventory cycle carries a fee of 2 percent over the fluctuating prime interest rate, with a minimum rate of 6.5 percent.
"Our mission is to provide financial products to small and mid-sized entrepreneurs. Community pharmacies have proven to be a very important sector in the local economy, employing about 15,000 Puerto Ricans directly," Cancel-Planas said.
"With this product we offer our clients the tools necessary to encourage the establishment of new pharmacies or their growth. In addition, we open a window of business opportunity for the approximately 80 pharmacy professionals that graduate annually from our universities," he said.
That said, the EDB chief noted that recent graduates will be considered for financing, even if they lack a track record in the field, so they can become business owners if that is their goal.
Starting in August, the EDB, the Association and Droguería Betances will go on a joint "roadshow" to spread the word on the program and offer training to pharmacy owners and licensed pharmacists looking to open new stores or expand existing ones.