T-Mobile grows 10% in '15, as PR mobile sector shrinks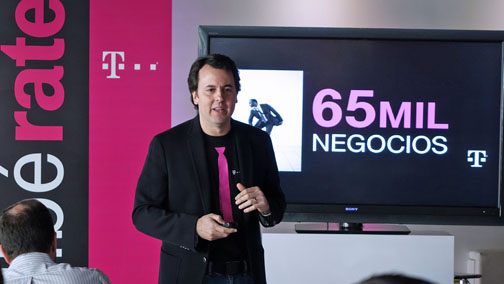 T-Mobile Puerto Rico executives said Thursday the wireless carrier experienced a 10 percent growth on the island in 2015, while the industry as a whole shrank by 2 percent. During the last quarter of the year, the carrier claims to have achieved twice the sales of its nearest competitor.
"This is according to our analysis of sales percentages in the market, boosted by the launch of 'Liberate/Uncarrier X' that offers video streaming that doesn't count against the customer's data plan," said Jorge Martel, general manager of T-Mobile Puerto Rico. "T-Mobile Puerto Rico grew more than any other carrier, and at par with T-Mobile US."
Washington-based parent company announced quarterly results this week, reporting a 1.1 percent increase in total revenue during the fourth quarter of 2015, and an 8.4 percent jump year-over-year for the 12-month period. The carrier reported adjusted EBITDA of $2.3 billion during the last quarter of 2015, and $7.4 billion for the year.
While the company does not break down numbers by market, Martel said T-Mobile spent 2015 building up its Puerto Rico infrastructure, to have enough capacity for the swell in data usage. During the last quarter, T-Mobile pumped $25 million into its network, which is 99 percent-capable for "Voice over LTE" service.
Looking ahead, Martel said the carrier will keep up its capital investment plans for the network, although he could not provide a figure on Thursday. He also said there will be more new stores and additional jobs.
"On the other hand, unfortunately we have the highest tax rate for all T-Mobile markets, so 2016 will continue to be an economic challenge for the local consumer," he said. "For this reason, T-Mobile continues to listen to the consumer to carry on with the launching of new services, products and innovative moves that solve consumer complaints, to match the economic reality and continue to revolutionize the industry."