3 teams win 1st 'STEM and Entrepreneurship' initiative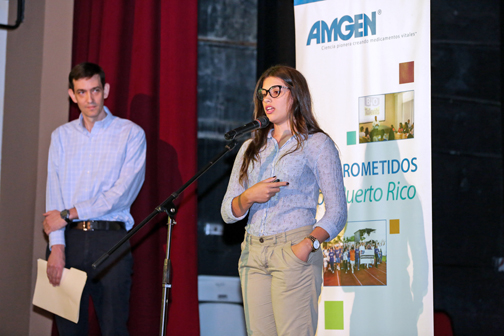 Grupo Guayacán, in collaboration with the Amgen Foundation, completed the first edition of its "STEM and Entrepreneurship" initiative aimed at high school students during an activity on Tuesday, crowing three teams of high schools students who participated.
The project's goal is to inspire the next generation of innovators to discover the potential of professional careers within the STEM (which stands for Science, Technology, Engineering and Mathematics) disciplines and to motivate students to adopt an entrepreneurial mindset, organizers said.
"The STEM and Entrepreneurship program allowed us to impact 600 high school students, enabling us to deliver a message about the opportunities for professional development and entrepreneurship that STEM careers can offer in today's knowledge and innovation economy. Additionally, the program allowed us to highlight the work of young entrepreneurs, supporting the development of a more entrepreneurial culture," said Laura Cantero, executive director of Grupo Guayacán.
Students competed for a number of prizes including $500 for the winning team, $500 for the winning school and mentoring sessions from Grupo Guayacán, for those interested in continuing to develop their business idea. The winners were:
In first place, Brendalex Díaz-Cruz from José Collazo High School with Bioesqueletar Design Service, a platform of equipment and services which provides support and protection for patients that face mobility limitations.
In second place, Ángel Hernández and Jorge Cardona from Colegio Católico Notre Dame with Friendly Solver, a piece of equipment that gathers excess water generated from air conditioning units and delivers it to the water tank of a car's windshield wipers.
In third place, Joseph Marcano, Pedro Nogueras, and José Martínez from Dra. Conchita Cuevas High School with Game System, a platform that incorporates holographic technologies into card games in order to deliver a more interactive gaming experience.
"I'm about to begin my college education, specializing in Biology and I really enjoyed the program because I was able to learn about entrepreneurship and discover new skills that will help me in my future career," said Díaz, the winning student.
During the course of the semester, students received mentoring on how to develop their business idea and completed a Business Model Canvas (BMC), a tool that is used to help startups develop and communicate the key pieces of their business model.
The participating high schools were: Colegio Bautista and Dr. Conchita Cuevas in Gurabo, José Collazo and Isabel Flores in Juncos, Colegio Católico Notre Dame in Caguas, and Antonio Isern Fernós Vocational High School in San Lorenzo.
As part of the program, 21 student teams developed their business idea through the BMC. A jury composed of Guayacán Alumni including Amneris Rodríguez from AgroTropical, José Humberto Torres from Green Barrier, and Jennifer Serrano and Ramón Ortíz from Señor Paleta, selected six finalists, one from each participating school. Each team was assigned a mentor who helped the teams prepare for the final competition.
"It's a symbiotic learning process. I offer students the benefit of my experience and knowledge while absorbing from them new perspectives and views," said Germán Corcino of Ferraiuoli, LLC, one of the program mentors.
The STEM and Entrepreneurship program offered high school students from Puerto Rico's central-eastern region a series of informative and motivational talks where they learned about the professional and entrepreneurial opportunities that STEM careers can offer.