40 days, $80K transform La Perla community in San Juan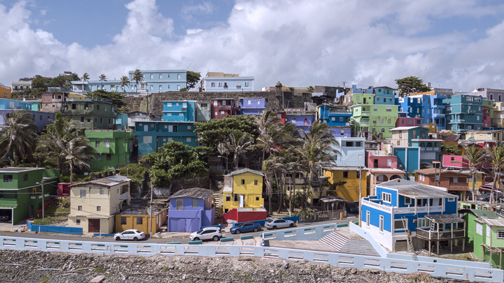 The La Perla neighborhood Community Board announced Wednesday the culmination of the revitalization that included the renovation of 375 façades in just 40 days, at a cost of $80,000.
The project generated jobs and improved the skills of residents who were part of the brigades, and spurred the development of a community microenterprise offering guided tours of the iconic seaside community at the entrance of Old San Juan.
The tours will be offered July 8 from 2 p.m. to 6 p.m.
"We want to open the doors of our community so that the people of Puerto Rico and visitors from abroad get to know the new face of La Perla, a reflection of the residents' determination and spirit of improvement," said Yashira Gómez, chairwoman of the Board.
The "La Perla Paints its Future" project was possible through an alliance among a number of private-sector companies, namely, Panamerican Grain, Master Paints, First Bank, Coopharma (Cooperativa de farmacias puertorriqueñas), Supermercados Selectos, Indulac, Mac Climber, National Hardware and EDP University.
Master Paints provided more than 350 five-gallon containers of paint in some 32 colors, used to cover some 375 structures. An 18-person crew of residents, and dozens of outside volunteers joined to complete the community's makeover.
La Perla community sits between Old San Juan's San Cristobal and El Morro historic forts, and is among the first sights visiting cruise ship tourist see upon arriving to Puerto Rico. It is estimated that some 700 families live in this community founded in the 19th Century.